Piper Lance Restoration Continues With Dual Electronic Ignition Upgrade
This is the second of two parts. The first part, which ran in the August 2022 issue, detailed the interior and exterior restoration of Fred Fischer's 1976 PA-32R-300 Lance. This month, we look at one of the first installations worldwide of the newly STCed Electroair dual-ignition system.
Fred Fischer spared little expense when upgrading and updating his 1976 Piper Lance. And while many plane owners would argue in favor of one electronic ignition, with a magneto backup, that isn't an option on his Lance, because of its single-drive mag. So when Electroair announced it had received an STC to install dual electronic ignition and replace both magnetos, Fischer became one of its first customers.
"I wanted to do the electronic ignition because I had my fill of hot starts, which is really the biggest thing, and I had that D series engine, so I don't have a choice because I've got to have a dual electronic ignition because it's a single-drive mag," he said. "The dual-mag replacement makes it a little more expensive because you have to replace both sides, because you can't take half of a single-drive mag out. Anybody who has other than that 540D series engine will have a standard Electroair installation in that all you're going to do is replace one of the mags, put a lithium battery in, and you're off to the races."
In his first couple months with the new system, Fischer said he can tell the starter and the engine are working better. Fischer said his CiES digital senders are telling him he's using about a gallon and a half less fuel per hour "and I'm running lower cylinder head and exhaust temperatures than before."
"There's no question that the engine sounds better and runs smoother," he said. "I don't know that the payback is fantastic in just fuel savings, but I do believe it saves wear and tear on the starter, not having to stress and strain of the hot start because it seems they only don't want to start when you're away from home when it's hotter than hades. And how do you put a value on a smoother running engine?"
While the FAA requires one backup for dual electronic ignition — either a second alternator or a lithium battery — Fred had both installed. "I put in the alternator on the back aaccessory housing drive pad on the 540 Lycoming, but then I went ahead and put in a 3-amp and a 6-amp lithium battery. The 3-amp runs one of the ignition systems, and the 6-amp runs the majority of my panel. So I can literally now turn my master switch off — I've done it on the ground, but I don't have quite the courage to do it in the air — but I can literally now turn my master switch off and everything keeps running. I still have basic instruments, and I still have ignition. So I basically have a 65-amp alternator on the front, a 25-amp on the back. It will go up to 45 amps, I believe it is, for short bursts, and if both of those alternators fail, I still have two hours on two lithium batteries to get on the ground."
He also upgraded his starter to a Sky-Tec, because after the initial installation, his older starter sometimes struggled to reach the rpm that the Electroair system needed.
Click on a photo for a popup slideshow and to more easily read the captions.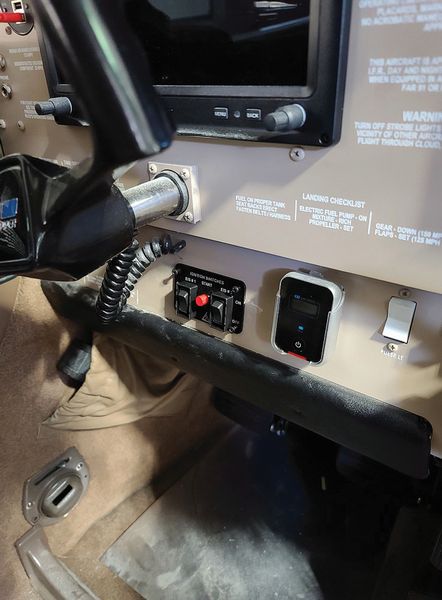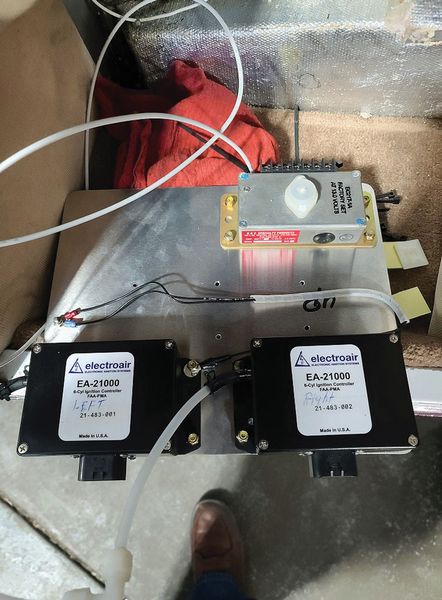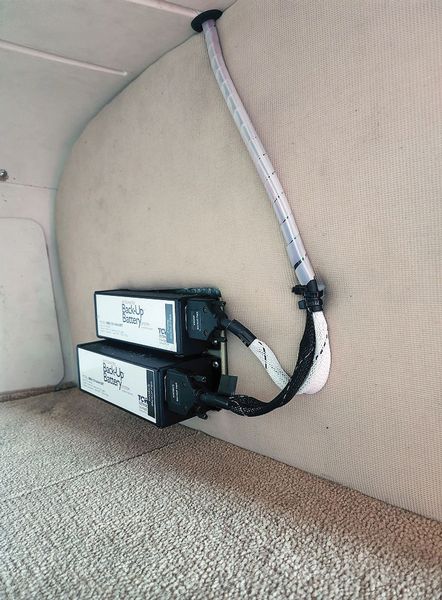 RESOURCES
Electroair Ignition Systems
www.electroair.net
Sky-Tec Starters
skytec.aero
ProAv Aircraft Services (installer)
proavaircraft.com