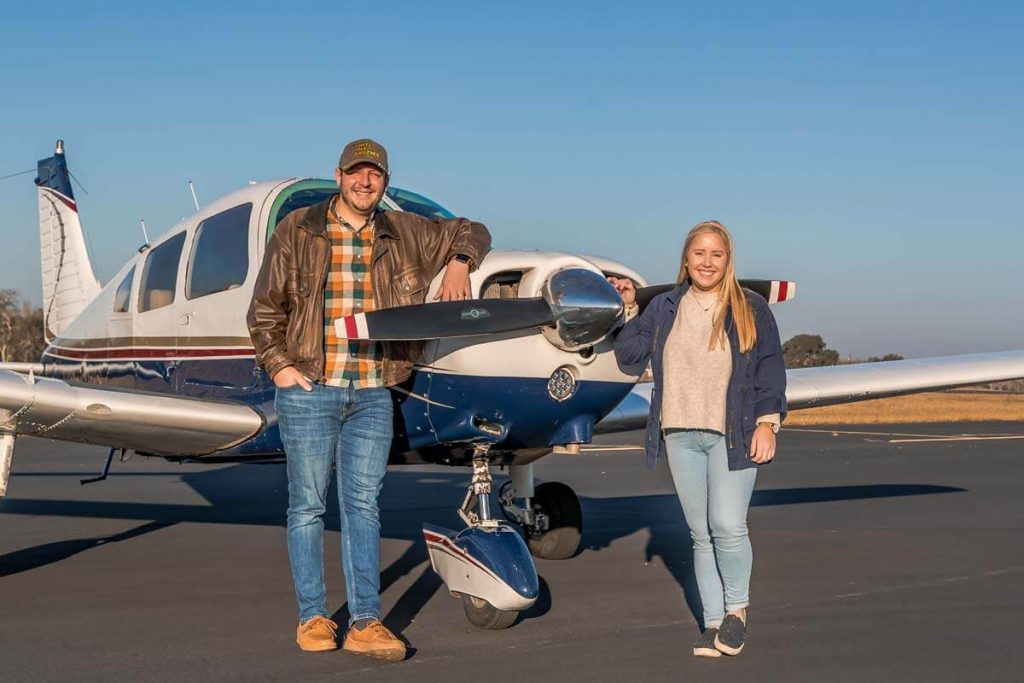 By Dominick Tardogno
Tell us about the panel.
As a club with multiple Cherokees (this 1976 Warrior, a 1978 Archer II, and a 1980 Dakota), our strategy for upgrading avionics in each aircraft was to fit the primary mission of each. The Warrior is primarily intended for cheap hours building, training, and the occasional longer cross-country trip. But with many of our members being instrument rated, a good IFR-certified GPS was a must. So, in 8165C, we've got a standard six-pack of steam gauges with an S-TEC 20 autopilot, a Garmin GMA 340 audio panel, a Garmin GTN 650 WAAS GPS for nav/comm one, a Bendix King KX 155 for nav/comm two, a Garmin GTX 345 ADS-B transponder, and lastly a trusty old Bendix King KN-64 DME. The GTN 650 is a fantastic GPS nav unit, especially combined with the ADS-B In from the GTX 345. Flying in busy central Texas airspace, being able to use ADS-B traffic has definitely provided a much greater peace of mind in the air.
What is your advice for someone who's considering buying a plane like this one?
I'd give the same advice I'd provide for any other airplane purchase. If you determine that a Warrior is a good fit for your flying mission, find a good mechanic that has experience working on them, and have them do a thorough prebuy. I'd also recommend personally going on a test flight and paying very close attention to what the owner says and does. As far as specific things to consider with the Warrior, I'd recommend paying close attention to the nose gear and aircraft handling under braking on the ground. These aircraft can develop a nasty shimmy in the nose gear if you hit it hard too many times on landing. This may not be entirely obvious until you fly the aircraft yourself. A good prebuy inspection should find any other major red flags.
What are your favorite things about this airplane vs. the others you've flown?
I have a lot of time in various Cessna 172 models and other Piper Cherokee models (Archer II and Dakota). Initially when I bought into the club, I stayed away from our Warrior because I was more interested in flying the faster aircraft. But, after being convinced to fly it more, I've come to truly appreciate the 151. Warriors may not be the most exciting aircraft by the numbers, but the feeling in the seat is fantastic. For solo and single passenger flights, you get the maneuverability and sight picture of a low wing aircraft, in a quick, lightweight, and affordable package with just enough feel on the controls to be truly a joy to fly. Plus, the fuel burn at a 115 knot cruise is around 8.5 gph, which is pretty tough to beat. For me, on a good VFR day, I'd just as soon grab the keys to this Warrior as anything else I've flown.
If you could change anything, what is the one thing you'd change?
One gripe I have with all Cherokees (as compared to similar Cessnas), is cabin air circulation on the ground. Flying a Cherokee in central Texas in the summer can be brutal. If there was an STC for it, I'd love to have an air conditioner for ground ops, or even a larger opening in the pilot side window. Other than that, there's nothing I'd change!
General info about the Chandelle Club and its Warrior
The club was founded in 1981 with 10 members and a Cessna 152. Our club's purpose, then and now, is stated in our bylaws: "To provide for its members convenient means for flying at the most economical rates." In 1991, the club expanded to 20 members, sold the 152 and purchased N8165C (a 1976 Piper Warrior) and N31969, which is a 1978 Piper Archer II. We've since expanded to 30 members and purchased N8035G — a 1971 Cessna Cardinal RG, which was sold in 2020 in order to obtain N8153Y — a 1980 Piper Dakota.
Our "average" member is a private pilot and is likely instrument-rated, or is pursuing the rating, and is also interested in the high-performance endorsement. Some of the additional ratings held by current and former members include helicopter, glider, seaplane, multiengine, CFII, and even ATP. Members fly for pleasure, training and currency, Texas-area cross-countries, and occasional longer trips. Chandelle is truly a unique flying club with a desire to keep costs low, maintain and upgrade the fleet continuously, and most importantly help keep the skies safe with proficient pilots.
Our Warrior saw 304.9 Hobbs hours of the club's combined 753 hours of flying in 2020, and is looking forward to another great flying year in 2021!