My name is Kay Hall and I own a 1968 Piper Cherokee 180D that I fly all over the country. I'll be talking a lot about my airplane and travels in future posts, but I thought I would kick this this one off with a bit of information about my journey so far.
Back in 2018 I really didn't know what I wanted to do for a living and was working as a server at a restaurant. I've always had a very supportive family so when my father (I call him Pop's) called me and told me he had spoken to a female friend that worked for Delta Airlines, he asked if I'd be interested in becoming a flight attendant. I said yes and had a great conversation with her. She said she'd be happy to give Delta a referral for me.
I called, "Pop's, "back and told him about the conversation. He could detect that I didn't have the enthusiasm he expected so he asked me point blank, "If you could do anything you want, what would it be?"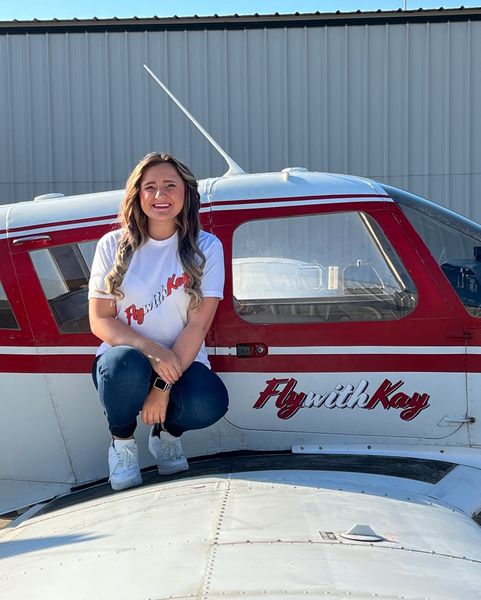 I told him that I'd rather be the pilot flying the airplane! He said, "then that's what you should do. We'll figure it out!"
Shortly after that conversation I went and did an introductory flight, loved it, and signed up for classes. I won't go in to all the details of the next few months but I did decide to go to a flight school that offered an accelerated training program and over the course of those 9 months I took and passed all of the following:
Private Pilot
Instrument Rating
Commercial
CFI
CFII
Multi-Engine
Multi-Engine Commercial
I didn't get my Multi-Engine instructor because of changes at the FAA and my flight school didn't think it was needed. They offered me a job as a flight instructor. I took it!
Fast forward to early 2020 and right in the middle of a flight school transfer, the pandemic hit. I was actually supposed to start on a Monday and the flight school assured me on Thursday that I would start. Then on Friday they called me and told me all hiring was frozen and that I didn't have a job. I was with the Envoy program with American Airlines, and they tried to place me at a different flight school but all flight schools had frozen hiring. I was devastated!
I had been staying at home with my parents while I was getting set up for the transfer so I basically just stayed with them. I immediately joined a flight club and began building hours. I was at roughly 250 hours at that time.
It didn't take long for Pop's to realize that the pandemic was going to drag on for a while and the discussions to buy an airplane were born. We found the perfect airplane which we promptly named, "Lil Red," and I started flying her around the area. It was a basic six pack with no autopilot which my Pop's didn't like, so we upgraded the panel to dual G5's, a Garmin 530W, GFC 500 autopilot, and later on a Gi-275 EIS system (I'll do future posts about my upgrades).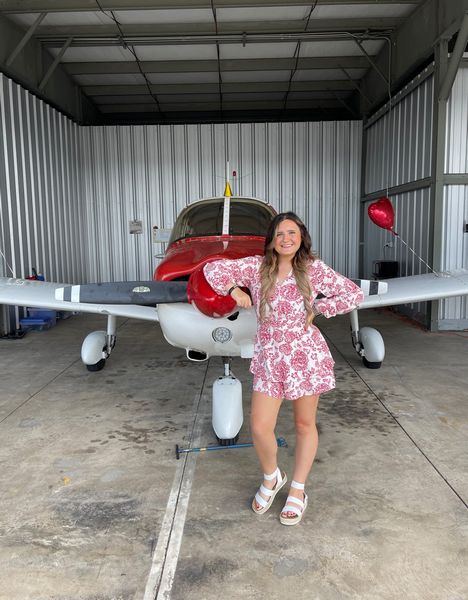 In late 2020, I decided to start documenting my flights on social media and launched my Tiktok page in January of 2021 (@flywithkay). I started posting a lot of content and it quickly took off. I reserved the FlyWithKay name across all the social media platforms and now am closing in on half a million followers across all of them. It's been an exciting time. You can follow along with my flights on Instagram, Tiktok, YouTube, Clapper, and Twitter at, "flywithkay."
So what's this blog going to be about? I'm going to really dive in to flying my Piper, the challenges, maintenance, and surprises that have come with it along the way. I'll also be talking about taking this on very long trips (I flew Lil Red all the way from Houston to Port Angeles, WA). That's over 2100 miles and a lot of gas stops. I'll discuss leaning, emergencies, and challenges.
In just 2021 I flew out of my home base in Houston to Sun N Fun (I've flown over to Florida 6 times this year), Oshkosh, San Diego, Las Vegas, Port Angeles (by Seattle), and a lot of other places. I just passed over the 1000 hour mark.
I'm looking forward to getting started so I'll talk with you in my next blog!
Thanks,
Kay
Kay Hall is a commercially rated pilot, instructor, and social media influencer. She owns a 1968 Piper Cherokee 180D that she named, "Lil Red." Kay inspires people of all ages to learn more about aviation and has had a big impact on young folks that thought aviation was out of reach. You can learn more about Kay on her website at www.flywithkay.com