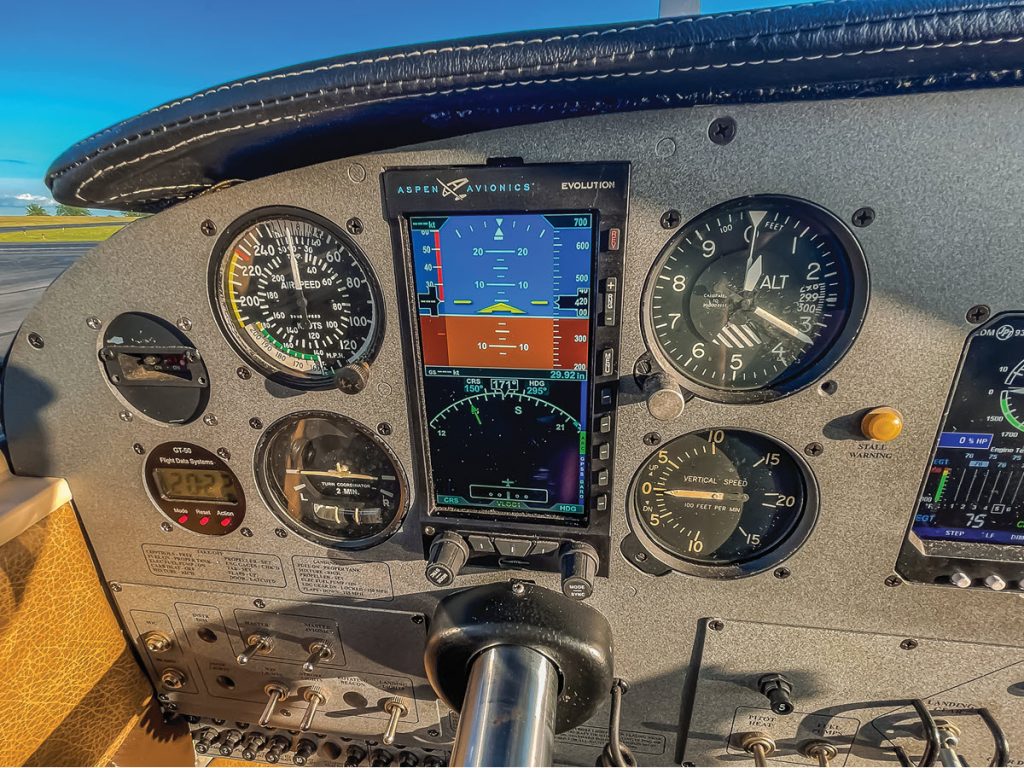 I talk a lot about what is (and what was) the hot topic in avionics. We had the GPS phase, which is now the standard; the MFD phase, which is pretty much gone and replaced by big glass; and the ADS-B phase, which is mostly done. I believe we are still in the EFIS phase today.
And even legacy aircraft owners fly­ing Light IFR are asking about the G5, GI 275, AV-30, and now the new Mini6 from R.C Allen as a part of their pend­ing avionics upgrades. I still believe that EFIS is a luxury in a Light IFR platform, but it is hard to ignore the lure of EFIS. My only suggestion is that you make sure that you have checked off all the impor­tant boxes first before you invest in EFIS and that you're not shifting budget to EFIS and flying Light IFR with an old KX 170B as your back-up nav source.
Before we had any of these options available to create what is essentially an electronic Primary Flight Display (using separates), we had Aspen.
Aspen Avionics
In 2004, a group of avionics and manu­facturing professionals came together and formed Aspen Avionics. In 2005, Aspen in­troduced its first product, the AT300 Haz­ard Awareness Display. Designed to direct­ly replace a mechanical VSI and provide that information digitally, it also served as a Terrain Awareness display. From my seat at Eastern Avionics, it was moderately suc­cessful. It was the introduction of the first Evolution EFD1000 PFD/HSI in 2008, that put Aspen Avionics on the map.
The first thing that I noticed as an Avi­onics consultant is that, with the EFD1000, you could add an ADHRS controlled, solid-state Attitude Indicator and HSI with battery backup to your aircraft without cutting a new panel and at the same time, eliminate the aircraft's vacuum system and less reliable vacuum-driven, mechanical AI, DG, or HSI.
For me, the EFD1000 became the only sensible way to add an HSI to an aircraft that lacked one! Hard to imagine, but that was 14 years ago. The MFD500 and MFD1000 would follow, allowing you the option of one, two, or three screens, still without having to cut a new panel.
When Aspen added the EA100 autopilot adapter, that meant that the EFD1000 was now compatible with most existing autopilots including good-working legacy mod­els from Piper and Cessna. Frankly, that was a bigger deal back then when a new autopilot with basic altitude hold was $18,000 installed. Aspen was obviously a company that has been ready to "play well" with others. They still are and they are currently working with Trio (for their Pro Pilot) and BendixKing (for their AeroCruze 100), as these manufacturers certify their interface to the EFD1000 and E5. These represent the two affordable, digital autopilots targeting the legacy Light IFR, or VFR market. Aspen is already compatible with the Garmin GFC 600 and Genesys/S-TEC 3100 autopilots.
So, you have a solid-state, Primary Flight Display with bat­tery backup and ADHRS sensing that could be installed in your aircraft without the expense of creating a new panel and it could "enhance" existing autopilots. That actually makes even more sense today. Back in my days at Eastern Avionics/APG Avionics, we were adding about $2,500 to the cost of an avionics upgrade in a single engine aircraft for a new, custom panel. The quotes my clients are sending me today show new panels today at $4,000 to $5,000! Any upgrade that will include the Garmin G500 or G3X or the Dynon Skyview (big screen EFIS) are likely to have that additional charge. A three-screen Aspen EFD with dual MFDs will give you the land­scape of big glass without the panel cost. That pays for one of the Aspen MFDs!
EFD Enhancements
Since 2008, Aspen continued to upgrade the EFDs, but the most significant upgrade came in 2018 with the introduction of the EFD1000 Pro MAX at Oshkosh. I attended Aspen's presentation and here's what I learned. First, display technology has come a long way since the introduction of the EFD1000 in 2008, so that's the first thing you will notice when you compare the original to the EFD1000 Pro MAX. The "MAX" series displays represent the latest in "aviation glass" — bolder and brighter with customer-requested improvements, including larger fonts and windows.
Font sizes triple in size when items are selected, making it easy to identify your selection! New electronics provide better reliability and faster processing speeds. Zoom levels are enhanced to 350 nm. An audio panel interface allows for voice annunciation from the MAX when interfaced to just about any audio panel that's still in use today. It talks to you when necessary.
Originally, backup instruments were required, including backup attitude, airspeed, altitude, and vertical speed, but note … the FAA recently lifted the requirement for backup attitude when you install a single EFD1000 Pro MAX.
In addition, the EFD1000 Pro MAX includes:
GPS-aided ADHRS in the event of a pitot/static failure
Airspeed and Altitude tapes with Altitude Alerter (with separate approach minimums)
Built-in GPS Roll Steering (GPSS)
Full Electronic HSI with Dual Bearing Pointers
Base Map with flight plan legs and waypoints, curved flight paths, and nearby navaids
Back-up instruments are eliminated when you add the MFD1000 MAX
Attitude Intercept based on climb rate
Synthetic Vision is standard. Angle of Attack is available as an option
One-hour-plus backup battery life in the event of a loss of electrical power
Aspen MFD1000 MAX and MFD500 MAX Multifunction Displays
As I mentioned, you can expand the capabilities of the Aspen PFDs by adding one or two MFDs to your panel designed to enhance safety and increase information at your fingertips. Aspen's form-factor allows you to use your factory panel by utilizing the existing 3-inch instrument holes, further reducing installation costs. The MFD1000 MAX, an upgrade from the MFD500, also includes the same ADHRS solid-state gyro found in the EFD allowing for full "revisionary" capability in the event that the primary EFD should fail. With the push of a button, the MFD1000 MAX becomes the Primary PFD and can be switched between the PFD and MFD role. Plus, the addition of the MFD1000 Max eliminates the need for any backup instruments.
Both MFDs provide the following:
Chart and countdown timers
Height above ground level (AGL) on navigation and terrain maps
METAR flags on navigation map
Sectional-style moving maps with hazard awareness overlays
Customizable screen layouts
Charts and geo-referenced airport diagrams
Built-in backup battery (up to two hours)
Built-in terrain awareness
Traffic overlay on map via interface with compatible traffic systems
The rest of this article can be seen only by paid members who are logged in.
Have a website login already?
Log in and start reading now.
Never created a website login before?
Find your Customer Number (it's on your mailing label) and register here.
JOIN HERE
Still have questions?
Contact us here.