How Well Does and Arrow Respond to a McCauley Scimitar Prop?
Woe is me; it's been a bad four-month period with my Ar­row. While the cost to fix my plane was high, at least I'm back in the air. It started with a bad cylinder on my Continental TSIO-360-FB 200-hp engine. I've owned nine en­gines over 30 years in my Arrow and three Senecas, and I've never needed a new cylinder before TBO except once, when a 16-year-old line boy armed with a fuel truck pumped gas into the oil filler tubes on a Seneca III. But that's a story for another day.
On this event, I had a cylinder go from 72 pounds to 40 in 12 months. We sent the cylinder to Poplar Grove Airmotive in Pop­lar Grove, Illinois, and a couple of weeks later they returned it. Of course, it took a month to remove and reinstall the cylinder. And then the plane ran well for a month or so, until my 11-year-old alternator failed 150 miles from home. At least it was day and VFR. And gosh, I got to squawk 7600 on the transponder and see if my alternator-out checklist worked. It was an uneventful day, but it did give my passenger anxiety, which I am loathe to do.
Of course, my shop ordered a new alternator from Aircraft Spruce the next day. The following week they put the new Plane-Power alternator on, and 1.5 flight hours later it failed. They ordered another directly from Plane-Power under warran­ty. It arrived and they installed it. I ran up the airplane and took off. It failed on the takeoff roll. That one came off and a third one was ordered. I now have about 40 hours on the third new alternator. and all seems well — except for the bill to remove and install all these alternators.
Then I took the plane from Wisconsin to Colorado to see my son. On the return trip, my Merlyn Products upper deck control­ler (automatic wastegate) on my turbo seemed to fail. We sent it out to Merlyn Products, but it came back with no trouble found. Ugh, more time and money. It turned out to be a loose reference line to the upper deck. More time and money. We got that fixed and back up in the air I went. All was well.
On the next flight while preflighting, I saw a sizable nick in my two-blade Hartzell prop. My shop followed the instruc­tions on the Hartzell website for dressing the prop, but my shop didn't feel good about how deep the nick was. After doing a dye penetrant test, they gave it the thumbs down. So we sent it to a prop shop for repair or overhaul. The prop shop went with an overhaul because the prop hadn't been overhauled (or had any other major service) in more than 10 years. The good folks over there called with bad news. The prop failed the overhaul and would have to be replaced, so we had the prop returned.
While my plane looks very fast on the ground without a prop, this definitely wasn't going to do. So I called Hartzell to see what they recommended, and it really didn't matter. They needed three-plus months to supply a new prop for the Arrow. I wasn't too happy, obviously. I didn't want to call a lot of prop shops looking for a reconditioned prop. So what to do? I looked at the McCauley website to see what they had available. They have a very easy-to-use webpage, where I inserted the make and model of my airplane and engine, and it listed all their props available for my plane.
They had one prop model available. For $13,980, they can sup­ply a new three-blade Scimitar prop and spinner. While the prop is heavier than my current Hartzell two-blade prop, the McCau­ley prop eliminates the restricted rpm range on the Hartzell prop. The green (normal) operating range on the new prop is 500 rpm to 2,575 rpm. And the prop is a couple of inches shorter, which translates into a few decibels quieter and less likely to pick up a stone in the future. And the prop looked very good.
But how long would it take to get one? Three-plus months? It was already the end of June, and I would lose the entire sum­mer if it took the same amount of time that Hartzell wanted. So I picked up the phone and called McCauley. The phone rang and went to voicemail. "Thanks for calling; your call is impor­tant…" I figured it would be a week before I heard back from them. I hung up and was sitting at my desk trying to figure out what my next move would be. Would I wait a week for the call? Should I go back to Hartzell? And my phone rang. My caller ID on my phone said McCauley! I picked it up and the fellow at the other end said, "I'm so sorry to have missed your call. I'm Josh from McCauley, what can I do?" Unbelievable, I thought.
Josh is a very pleasant, helpful, and quite knowledgeable fellow and good listener. He said that there were strengths and weaknesses to all props and compared honestly his three-blade Scimitar to the Hartzell two-blade prop that used to be on my plane. The three-blade prop is noticeably quieter, much smoother, and has almost no vibration. Also, it has no restricted rpm range and is good for 2,400 hours or 72 months before an overhaul. He also told me it weighed more, which was a negative. However, removing the vacuum pump and plumbing from my plane moved my CG back a couple of inches. The heavier prop would move that CG back to where it belonged. I liked what I heard.
But how long would it take? Josh said I could have one in four to six weeks. That was certainly better than the three-plus months that Hartzell wanted. I told him that I was AOG and anything he could do to expedite the delivery of the prop would be very much appreciated.
I ordered the prop on a Friday. The following Friday, my mechanic said that a delivery truck had just delivered my new prop. He wanted to know what magic I used to pull that off! The following Monday my shop installed the new prop, and I was back in the air.
Click on a photo to open a pop up slideshow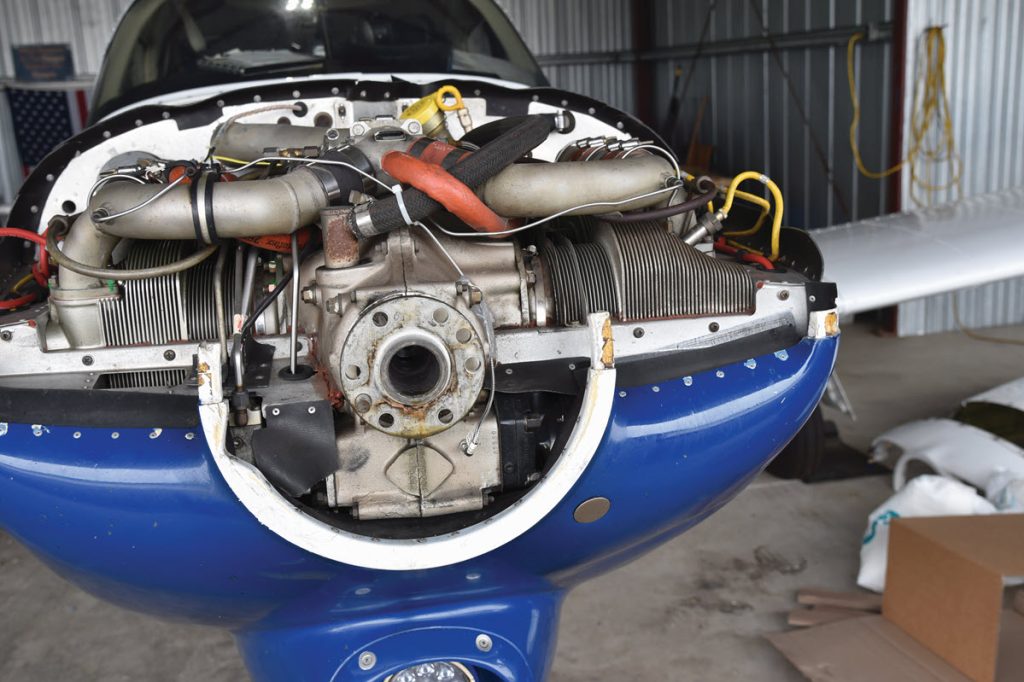 So How Do I Like It?
True to what Josh said, there's no noticeable vibration in the air­plane. The three-blade prop makes a very big difference on smooth­ness. I certainly like the way it looks and the extra ground clearance that it provides. I also like the fact that it's quieter, too.
So what about performance? The takeoff roll and climb seem a bit better, and cruise seems about the same. I did no scientific test­ing or comparison of the old prop versus the new prop.
There is one new feature that I haven't been able to get quantita­tive on, but when I was doing a fast descent to pattern altitude and have to slow down at the same time, it was challenging. With the three-blade prop, I put the prop control full forward and the plane slows quickly and attains a much faster rate of descent. Getting down to gear down speed of 129 kts is no longer so difficult. So all in all, I'm delighted with my new prop.
My four months of problems have ended and I'm reliably back in the air. And everyone comments on how cool the new prop is. The only thing left is to pay for it. This too shall pass.