If you have ever attended a hockey or baseball game with a Canadian team competing, you have heard it. The Canadian National Anthem is "O Canada," and like the US national anthem, it is revered in its home country.
We are not here to talk about baseball, hockey, national anthems, or the border that separates the US from Canada, although there has been a lot of talk about borders and walls recently, mostly to the south. We are going to talk about ADS-B. We have not done that in a while, and we are going to talk about borders — or as we better define it in aviation — airspace. Specifically, the invisible wall that separates US and Canadian airspace. If you live and fly along the northern border and see Canada as a destination, this should interest you.
ADS-B in the US
The concept of ADS-B as a solution to the tired old ATC system was never just a US discussion, although it's possible that we started it. Countries all over the world are adopting policies to improve aircraft separation with Automatic Dependent Surveillance-Broadcast (ADS-B). While the rest of the world focused on 1090 MHz, the prevailing frequency used for transponders and traffic control, the US went in another direction, offering 978 MHz as an alternative, with General Aviation in mind. The basis seemed to be a concern about bandwidth — how many pilots that 1090 MHz could handle at a time — and the idea of separating some, especially GA pilots, to 978 MHz was born.
The US has about 198,000 GA aircraft currently registered. The total number of registered aircraft in the European Union is about 19,600 — California alone has 26,141! We celebrate the freedom in this country to own and fly our own aircraft. This is not shared by much of the rest of the world, or at the very least, the cost to fly in many countries is prohibitive. So in the US, we have 1090 MHz for the bigger guys and 978 MHz for the little aircraft. However, it did not quite work out that way, did it?

A large segment of the US GA fleet is equipped with Mode S ES transponders because they offer no limitations. With 1090 MHz, you can fly above 18,000 feet and venture beyond the US border. With 978 MHz, you are limited to US airspace below 18,000 feet. This is partially because so many aircraft owners had old legacy transponders that needed attention. While they have no need or desire to go high or go long, the Mode S transponder just made financial sense. For many of the rest, uAvionix and their affordable beacons became the solution. Pilots saw $5,000 as the price tag for ADS-B Out five years ago. uAvionix showed them how to do it for half that amount! We will be talking about uAvionix again in this article.
Simply stated, in order to fly in Canadian-controlled airspace, the ADS-B system installed in your US aircraft will have to be on 1090 MHz and have top and bottom antennas.

ADS-B in Canada
While the US was equipping for ADS-B, Canada was "spacing out" on the subject! While NAV Canada, the private not-for-profit company that operates the Canadian air traffic system, has a responsibility to Canadian pilots, its location, adjacent to the North Atlantic Oceanic Airspace, the world's busiest, created an interesting challenge that we don't have here in the continental US. The US ADS-B system uses satellites and over 400 ground stations that play a major role. You cannot install ground stations in the North Atlantic, so a system that will meet the needs of the commercial traffic between Eastern Canada and Europe must be space-based.
Canada, in conjunction with the UK's National Air Traffic Services (NATS), has gone in that direction. Canada has chosen the Aireon, LLC space-based ADS-B that uses 66 satellites hosted by the Iridium satellite system. Since all ADS-B functions are space-based, the system was tested with a single belly-mounted antenna (the standard in the US), and the performance was deemed unacceptable. So the Aireon ADS-B system requires diversity — top and bottom antennas. Simply stated, in order to fly in Canadian-controlled airspace, the ADS-B system installed in your US aircraft will have to be on 1090 MHz and have top and bottom antennas.
If there is any good news here, it's that Canada's original goal of ADS-B implementation (in phases), which was scheduled to begin in February 2021 for aircraft that fly in Class A airspace (above 18,000 feet), has been delayed by at least a year. Class B implementation, which in Canada is 12,500 feet to 17,999 feet, will follow, along with Class C (larger airports with a ceiling of 12,500 feet) a year after that, and so on for Class D, E, F, and G. Note that airspace in Canada is defined differently than here in the US.
Equipping for ADS-B in the US and Canada
Since most US aircraft owners have already equipped for ADS-B in the US, pilots who hope to venture into Canada will have to revisit the subject. What prompted me to focus on ADS-B Canada was two recent clients who lived in northern states.
One had a GDL-88, which was Garmin's first attempt at an ADS-B Out and In device. It is a UAT operating on 978 MHz, so US-only. The aircraft was a Cessna 185 on amphibs, and Canada is an attractive destination for a guy from Michigan on floats. I pointed out the shortcomings, but when I started looking at a 1090 MHz solution for him, the Canada "controversy" came into play.
The next client, from Minnesota, had no ADS-B Out. We discussed Canada, and I quoted him on the least expensive option (under $6,000) to allow him into Canada. It was not a priority for him, so he decided he could not afford Canada and went for the uAvionix skyBeacon.
So while it may be two to three years before Canada will implement an airspace "wall" for those unequipped, if you are updating your panel and addressing a transponder upgrade or ADS-B, and you live up north, you will want to consider whether you are a candidate for space-based ADS-B.
Equipment Options for Space-Based ADS-B

Garmin GTX 335D Mode S ES Transponder w/Diversity ($5,600+)
The GTX335D is the version of their standard Mode S transponder with dual antennas. It meets the ADS-B mandate in the US and will be legal in Canada. Since a rooftop GPS antenna may need to be installed, I estimate labor in the 16- to 20-hour range, so about $7,500 installed. The 335D can also interface to your WAAS GPS (vs. adding an antenna), which can save a few hours.
Garmin GTX 345D All-in-One Mode S Transponder w/Diversity ($7,300+)
The GTX 345 is popular with pilots with large displays because it offers certified ADS-B In that can be displayed on these. The D version has dual antennas and meets the ADS-B requirement for the US and Canada. The ADS-B In interface to your EFIS or large-screen navigator like the GTN-750 or IFD 540, will add a few installation hours. Note that there is a remote version. The GTX 345DR interfaces and is controlled by the GTN 750Xi and is available at the same price.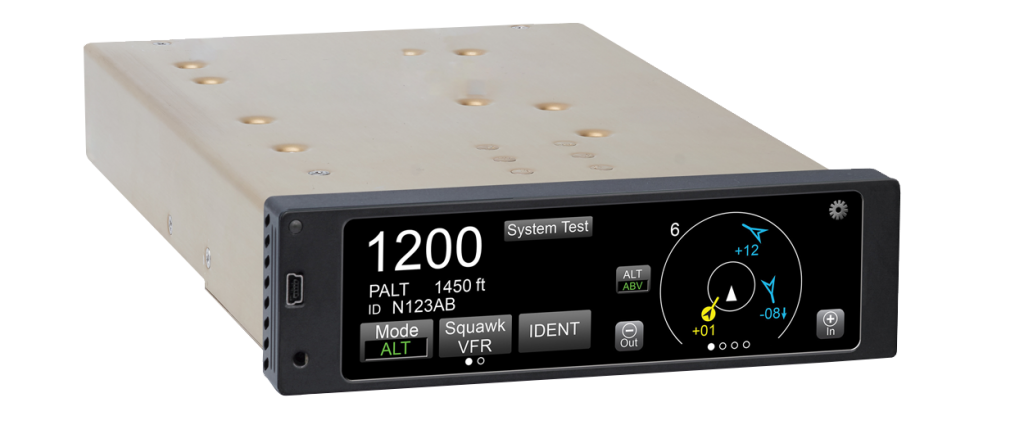 L3Harris Lynx NGT-9000D All-in-One Mode S Transponder ($6,000+)
The NGT-9000D, like the Garmin GTX345, provides ADS-B Out to meet the mandate and certified ADS-B that can display on EFIS units and large-format navigators, but it also has a built-in display that can show ADS-B WX and Traffic on the face of the unit. The D version offers dual antennas and meets the Canadian mandate. The built-in GPS requires either an additional GPS antenna or an interface to your panel mount WAAS GPS.
Install depends on antenna choice and is expected to be about 20 to 24 hours, so about $8,200 installed. With additional hardware, the Lynx can also display Active Traffic and Stormscope. Note that the Lynx NGT-9000D is sold through Avidyne and Aspen dealers.
uAvionix tailBeaconX/AV-30-C Primary Flight Display ($4,200+)
I think it is safe to say that uAvionix, with their beacons (skyBeacon and tailBeacon), became the heroes of the legacy airplane set seeking to equip for ADS-B on a budget. It looks like they're going to do it again for those equipping for ADS-B with Canada in mind. It might surprise you to know that uAvionix was in Canada testing the X beacon as early as January 2019.
It appears that this unit will only be released initially as a tailBeaconX, but the skyBeaconX will be coming later. The original skyBeacon and tailBeacon are UATs on 978 MHz, but the tailBeaconX is a full-blown Mode S ES transponder (1090 MHz) that replaces your rear position light with a modern LED while meeting the ADS-B Out mandate for the US, Canada, and the rest of the flying world.
The bonus, if I might call it that, is that this price point also includes the popular AV-30-C Primary Flight Display that serves as your primary solid-state AI while controlling the tailBeaconX through a wired connection. The package is $4,200, and the factory suggests about 20 hours labor, so the tailBeaconX/AV-30-C should be about $6,200 installed. Note that the AV-20-S 2.25-inch back-up unit can also control the tailBeaconX, but package pricing (about a thousand less?) has not been released yet. This would work well with an aircraft already equipped with EFIS.
Conclusion
If you live up north and see Canada as a destination, you need to be thinking about equipping or re-equipping for space-based ADS-B. It looks like you have about two years before you will need to equip for Canada, unless you fly above 18,000 feet, in which case you'll have to do it sooner.
If you already have a Garmin GTX 335/345, Garmin has announced an upgrade path will be available, but no pricing has been announced. If you already have a uAvionix beacon, no trade-in program has been announced yet, but you will likely find a buyer on the used market. If you are a cave-dweller who has not yet equipped for ADS-B, you now have more options.
I can only give a thumbs-up to Canada for their choice of ADS-B technology. Canada's role (along with UK's NATS) of providing aircraft separation in the busy North Atlantic Oceanic region created a need for a new solution. The Aireon system makes sense. Frankly, with all the previous attempts to deliver subscription WX and traffic to pilots from ground-based sources before ADS-B, it was obvious to me that satellite-based worked better. Yet the US chose an ADS-B system that is still dependent on ground-based towers. On that subject, you should know that NAV Canada has no plans to provide free ADS-B WX and Traffic with their Aireon system, so I guess you take the good with the bad. US pilots do enjoy the benefits of in-cockpit WX and Traffic with the good old US ADS-B system. It's not perfect, but it is making us safer.
Until Next Time, Safe and Happy Flying!