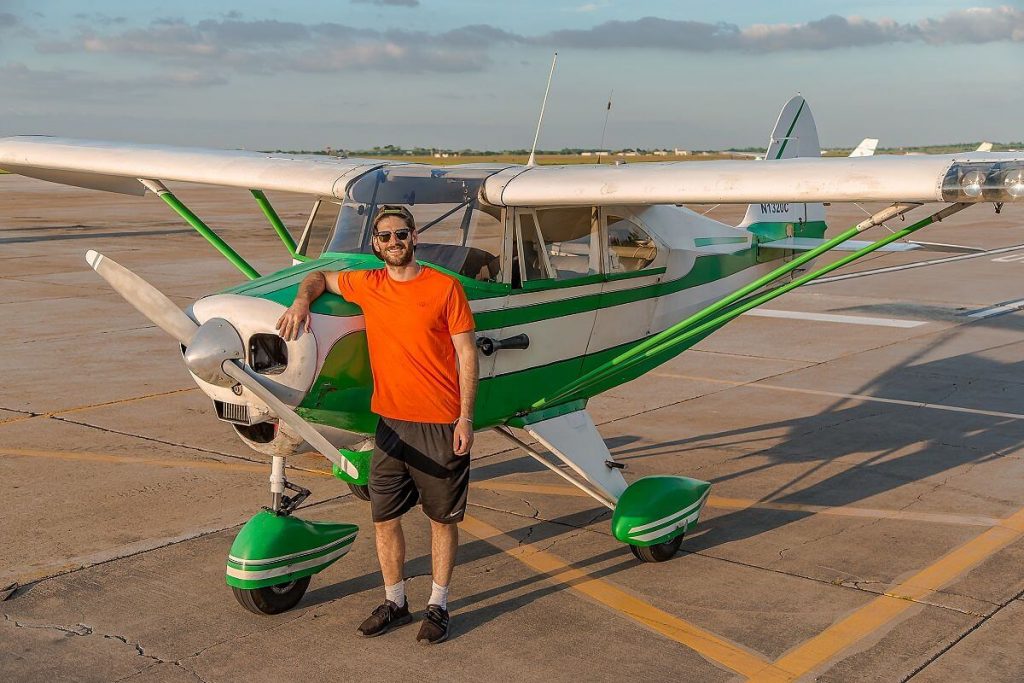 Alex Weaver and his 1953 Piper Tri-Pacer.
By Alex Weaver
I've always loved RC planes or anything that flies, but growing up I never thought about actually being able to fly a plane myself until I flew with a buddy (Sean, who is a CFI) a couple weeks after graduating from college in 2014. Being fresh out of college (and broke) Sean said that plane partnerships were a great way to save some money while working on getting my private pilot certificate. Within a few months of my first flight with Sean, my aviation journey started with N1320C. I was one of four co-owners when I bought in.
Luckily one of the other owners in the plane was work­ing on his private as well and already had an instructor, Kathleen, who is amazing and was readily available. I hit the ground running and was signed off to solo only 2 months after buying into 1320C! I believe I had around 15 total hours at the time of my first solo. It ended up taking me a year to get my certificate, but that's only because checkrides aren't cheap — especially if you have to do it twice. So, I took my time and took advantage of flying solo around the beautiful Austin, Texas, area. On the day I took my checkride in N1320C, I had more than 200 hours PIC in the plane and was definitely very comfortable as PIC.
Five years later, I now own the plane with one friend and have more than 700 hours in Buzz (that's what I call N1320C). I have flown through every state east of Texas and south of Tennessee. I have family in eastern Tennes­see so I have many 7- to 9-hour flying days going from San Marcos, Texas, to Johnson City, Tennessee, and the plane has never had any issues along the route.
My favorite part about this airplane is the simplic­ity and how economical it is to fly. I used to be a part owner in a Piper Arrow and can tell you that in a plane like that, there could be a lot more mechanical issues compared to the Tri-Pacer. It might not have the speed of other four-place aircraft, but it is very capable and a great beginner plane or fun plane in general.
The panel in Buzz is your standard six pack with two-way radios, transponder, oil pressure, and temperature gauge, EGT, and amp charge gauge. Not really too sure of what I would change besides the wheel setup from tricycle gear to tailwheel!
Overall this plane has taken me on so many adven­tures I had never dreamed of. I still get the same feeling I used to get in the beginning when I push the button to fire up the O-290-D2 engine.
Click on a photo for a popup slideshow.