Have you recently upgraded your Piper? Send us your story!
Ray Cook's history with Piper Cubs goes back to flight lessons with his dad and his first solo at age 16.
"I've always had an attraction to that airplane," he said. "I had restored a wrecked J-3 first — actually I did a Taylorcraft and then I did a J-3. I finished the J-3 in '05."
After that project was finished, Ray's attention quickly turned to Super Cubs.
"It's a lot more of a utility airplane than the J-3. And I thought that would be needed for camping and actually being more of a workhorse," he said. "I thought the Super Cub would be an easy project having done the Cub and I thought they're similar enough that obviously with more experience it should go better."
In addition to the utility of the type and his prior experience with J-3 Cubs, Ray said he was also interested in a Super Cub because he wanted something he could put on floats since he already had his seaplane rating.
"When I ended up actually purchasing the Super Cub the intent all along was actually to put it on floats," he said. "We were at Oshkosh about … 2010 or 2011 and we were talking about the project. So, I started looking at different companies like Dakota Cub, Cub Crafters, Carbon Cubs in addition to actually buying a Super Cub project."
See more pictures of Ray's Super Cub rebuild in the March issue of PIPERS magazine.
While he was at AirVenture, Ray found a Super Cub listed as a project on Barnstormers.com. After buying the "project" sight unseen, Ray headed to Moorhead, Minnesota, with a U-Haul to pick up the PA-18 and, thankfully, found that it was the perfect start to creating his ideal airplane.
"I really didn't want much of the original. It was a complete airplane, but it was pretty tired and worn out," Ray said. "Any other projects you want to look at them a little closer, and I did, but I knew I wasn't going to use a lot of the original airplane. … The engine was off and the fuselage was laying on the floor, gears off, tail off. It was all completely in pieces."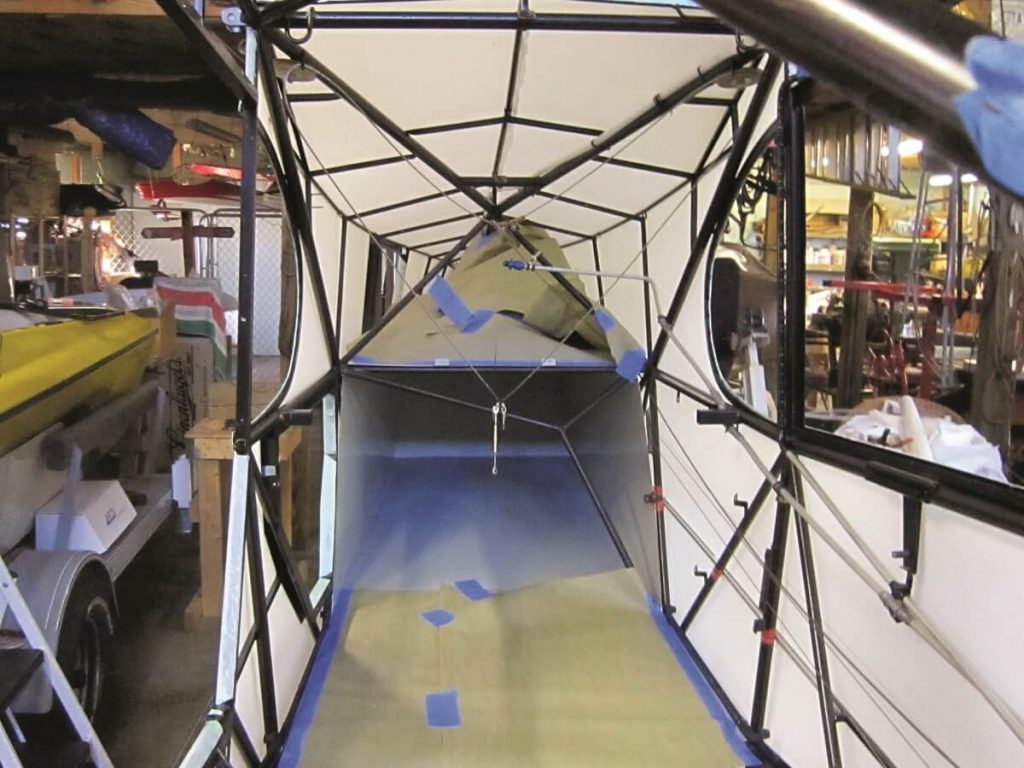 Over the next several years Ray worked on the Super Cub a little at a time in the pole barn that served as his shop. He finished the project just shy of the 3-year mark.
"I was working full time when I was working on this airplane. Since then I've retired," he said. "You gotta kind of do something every day. You don't have to spend 8 hours in the shop working, but if you just do something every day it's kind of amazing how quickly it will get done. … Anybody that's rebuilt an airplane or restored or built one knows the time it takes. I was pretty pleased with the timeframe."
To create his dream airplane, Ray turned to Airframes Alaska for a widebody fuselage that gives him an extra 4 inches of elbow room in the cockpit. Initially, he mounted it on 31-inch tundra tires. He flew it in that configuration for about 9 months before taking it to St. Paul, Minnesota, to have the floats installed by Wipaire.
"For just the deposit I got everything I needed for the install in the airplane," he said of his Wipline 2100 amphibious floats. "It included all the hydraulic lines the electric hydraulic pump the panel gear switch and the safe air system. So, I was able to put all that in during the rebuild before cover or anything making the installation much easier."
With the landing gear settled, Ray needed to decide what to do with the wings.
"Originally, I was going to take them all apart and rebuild the wings, but it had a crosswind STOL kit on it, which is a cuff on the leading edge and big goofy droop tips," he said. "It was an ugly wing and I didn't like it at all. I was going to convert it back to the original PA-18 wing."
Before he started the conversion, though, Ray spotted an ad for a set of brand-new, uncovered Dakota Cub wings.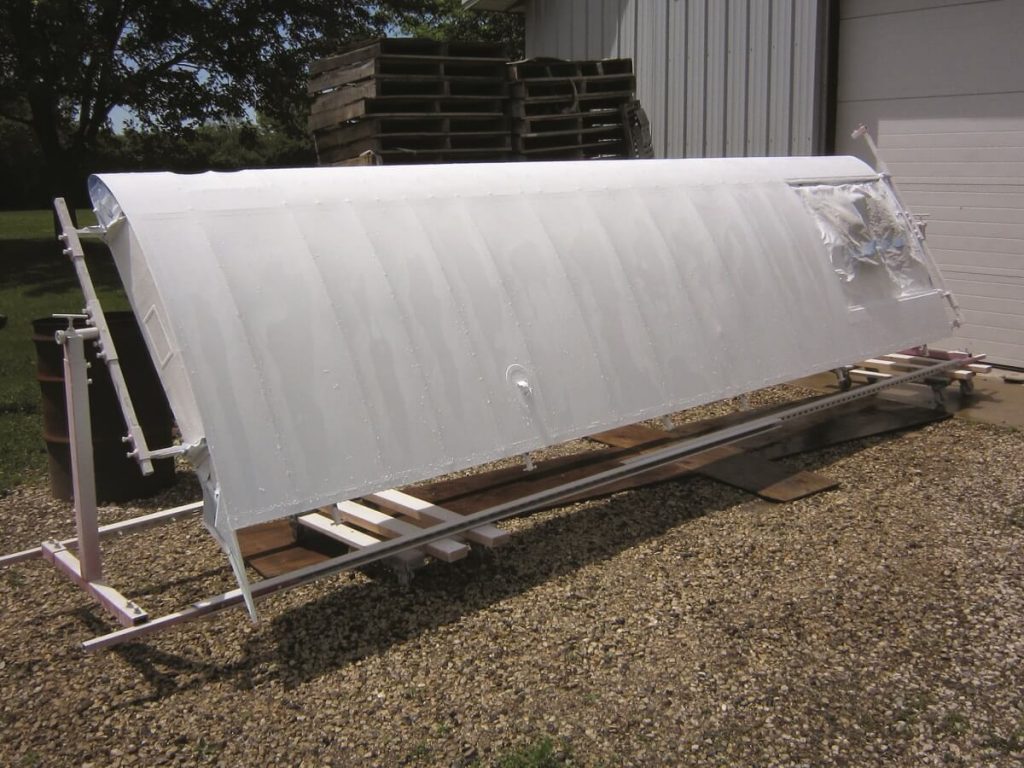 "They're extended flap, extended aileron, square tip, and 24-gallon fuel tanks," he said. "They'd never been on an airplane. I flew out to Kansas City to look at those wings and I ended up buying them and renting a truck and bringing them back. So, it's got a new fuselage truss and brand-new Dakota Cub wings. … That's why I say there's not much of the original airplane left; it's got a new fuselage and new wings on it."
Inside the cockpit is no different with few of the original pieces remaining.
See more pictures of Ray's Super Cub rebuild in the March issue of PIPERS magazine.
"For the front seat I used the frame and the back of the rear seat got used. The rest of the interior panels and stuff … with the widebody there's some changes to the original ones," Ray said. "It had all the original panels in it. I did nothing more really than just use those as patterns."
The interior of the airframe is all aluminum panels that Ray fabricated himself including the extended baggage compartment.
"The panels … is probably some of the stuff I'm most proud of," he said. "It all came out, in my opinion, very nice."
Ray also made his own panel mount and replaced all of the original instruments.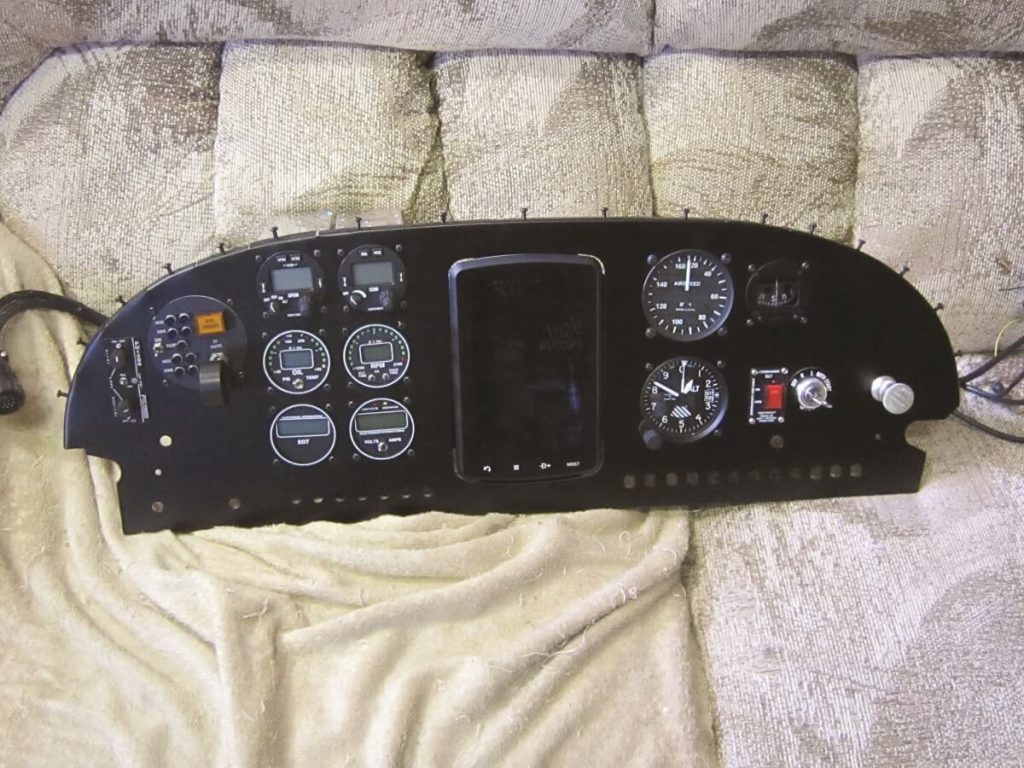 "I didn't want the RAM mount and wires and stuff all over that most everybody has in that type of airplane," he said. "The widebody fuselage gives you another 4 inches on the panel so I had the luxury of putting a little more into it. I didn't want to go [the way] everybody comes up with; the IFR panel and all the gyros and everything. For my use and my opinion, I wouldn't need any of that stuff. I just wanted a flush-mounted GPS."
Ultimately, Ray chose a Garmin 796 and then changed most of the instruments over to Electronics International versions including the EGT, volt/amp, tachometer, and oil pressure/temperature.
"I didn't use the airspeed and altimeter; I bought new ones. The rest of the airplane's new I'm not gonna put the old instruments back in it," Ray said. "Everything pretty much went new in it. I designed the panel. I designed the flush mount for the 796. … It was something I just had in my mind; my idea of what I wanted. I just started drawing and fabricated it. … There's no gyro in it. It doesn't need an attitude indicator or DG or anything. It's a Cub, you know. You fly by looking out the window."
With the benefit of hindsight, Ray said he was only half right about his experience with J-3 Cubs applying to rebuilding a Super Cub. One place where his prior projects helped was choosing a supplier for covering and paint.
"The paint and fabric is Superflite," he said. "This is the third airplane that I've covered and painted. I'm still using Superflite. They're a great company to work with and I like the process."
Other than the final installation of the floats, Ray did all of the rebuilding and restoration work himself — with occasional help from his wife, Christina, when he needed an extra set of arms to move something. One exception was the engine.
"It came with an O-320 A2B, which is the wide deck 150-hp, which is pretty much the preferred Super Cub engine," Ray said. "After going through the logbook and everything I didn't want to actually believe that engine was ever flown on that airplane. The engine was pretty much run out."
Ray said that he also noticed there was no 337 filled out for the engine nor was the change documented in the logbook. Ray had the engine completely overhauled with new cylinders and new pistons and he had it converted to 160 hp.
"I filed the 337 and Cub Crafters STC to put the 160 hp on the airplane," he said. "On the floats … that's the minimum engine you want. Actually, I think it's the best engine for it. I like it better. Most people on floats are putting the O-360 in it and that's 180 hp, but it performs wonderfully with this engine and it's lighter. It's about 50 pounds less on the nose with the 320 compared to the 360."
Ray also turned to the experts for upholstery by calling upon Airtex for the leather portions of the interior.
"I talked to the Airtex guys at Oshkosh and they said, 'Go look at this airplane. We did those seats.' … They looked really nice," Ray said. "I said I want leather ones I don't want vinyl. … So they made the leather seats for me. I've flown the airplane now down to Florida every year since it's been done. Back and forth from Illinois and it's very comfortable. … The only upholstery is on the front seat and the rear seat."
See more pictures of Ray's Super Cub rebuild in the March issue of PIPERS magazine.
The way he describes N4273S, it's not surprising that Ray decided to buy another Super Cub project to fix up.
"I've flow it a lot on long cross-countries and it's exactly what I want," he said. "It's a fun airplane that when you fly a long cross-country, when you get where you're going … you spend the day just hopping around the lakes and stuff. … I flew it from Kenosha, Wisconsin, down to Tavares, Florida, in one day. It was 11 hours in the air. My fuel stops were just out, pump gas, and get going. And then from there it's about 90 miles down to Lake Placid, Florida. The next day after I got here there was a seaplane splash-in in Clermont, Florida. After doing all that I hopped in the airplane and went to a fly-in. When you get somewhere, it's not just transportation. It's a fun airplane to fly just to take off and land at all the little lakes and go find places for lunch on the water."
In addition to long hauls down to Florida, Ray said he also regularly flies from his home in northern Illinois up to splash-ins in Michigan and northern Wisconsin, and to Ontario, Canada, for an annual deer hunting trip.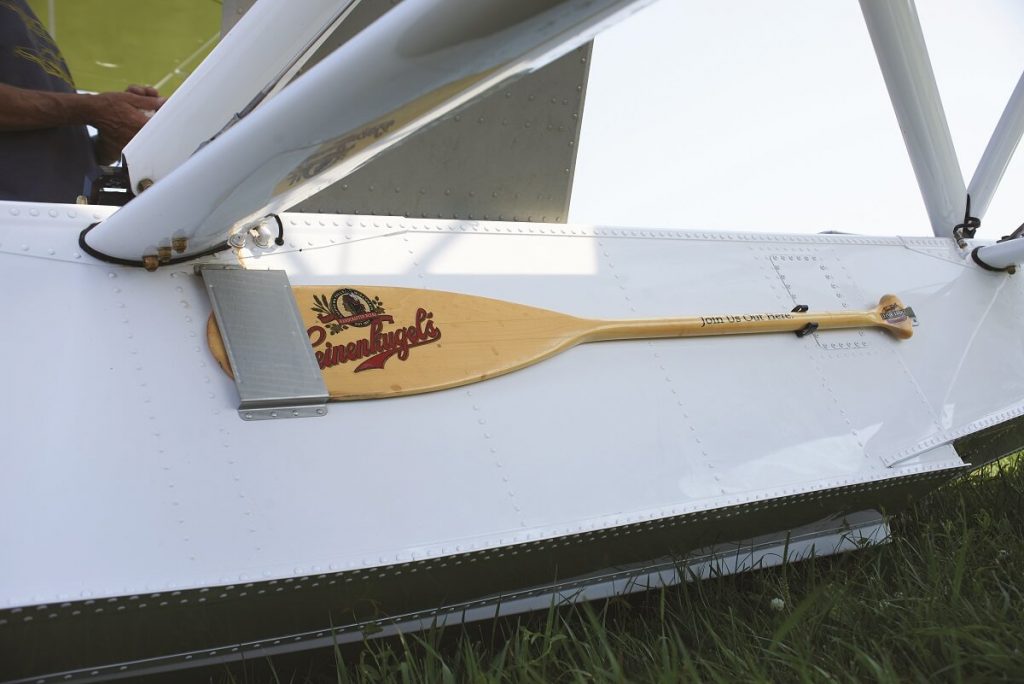 "On the trip up there we go through Chippewa Falls, Wisconsin, and we hit the Leinenkugel brewery up there," Ray said. "They've got a huge showroom gift shop there and long before the airplane was finished … they had this Leinenkugel paddle in there and I looked at it and I thought, I know where that's going. I had the paddle for more than a year before the airplane flew. … We get a lot of comments on it."
With a few years of flying it under his belt, Ray said that 4273S is still exactly as he wants it. "I've flown the airplane enough now that I know what works and what doesn't work," he said. "There isn't anything on it that I'd change."