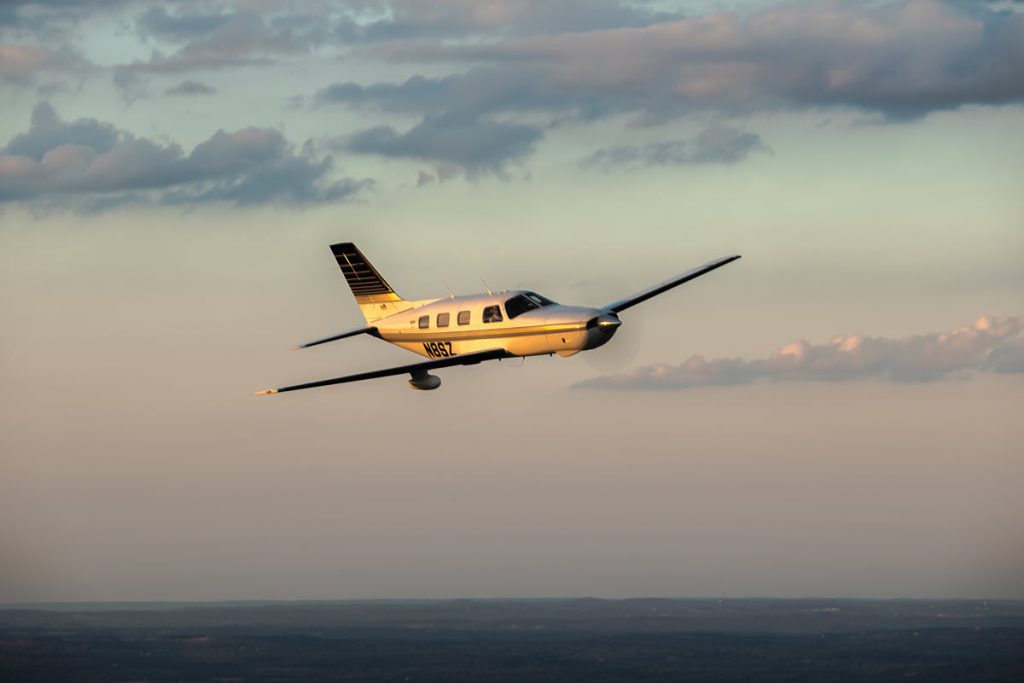 By Dan Brownell
Ed Cooper knew as a kid that he wanted to be a pilot, and it's easy to understand why. He caught the flying bug from his dad during the burgeoning years of aviation. "My fa­ther served more than 33 years as an Army Air Corps and U.S. Air Force pilot," Ed said. "He learned to fly after joining the Army Air Corps in 1942 and flew fighters — P-47s, P-38s, and P-51s — in the South Pacific during World War II." No doubt growing up in that environment surrounded by larger-than-life aviators of the Greatest Generation made a huge impression on him. While Ed never became a military pilot himself, he did earn his private in 1978 and has been an avid flyer ever since.
A Fortuitous Find
Ed has flown other planes over the years, but now has a Mal­ibu, which he gives rave reviews. "Stan Finch, my co-owner in this airplane, and I decided to upgrade from our previous T210 to a cabin class. Stan's background is in aviation. His vast knowledge and experience led us to the 1987 Malibu, which he found in Salina, Kansas."
The Malibu has been a good fit for Ed and Stan, as the aircraft had the qualities they were looking for and they were able to track down the model year they wanted. "We liked the Con­tinental and the landing gear and flap upgrade modifications found on the 1987," Ed said.
Michael Bunn, the Malibu's previous owner, is a former mili­tary pilot who used the plane primarily for his consulting busi­ness. As he was winding down his consulting, he decided to let go of it. "We spotted the airplane on the Malibu/M-Class Own­ers & Pilots Association (MMOPA) website," Ed said.
They contacted Kevin Mead of Mead Aircraft Services, lo­cated in nearby Olathe, Kansas, to perform the pre-buy. The inspection verified that Michael had taken excellent care of the airplane. With that information, they made the purchase.
More About Angel Flight South Central
Half the Cure Is Getting There!
Angel Flight South Central (angelflightsc.org), founded in 1991, is based in Dallas and covers five states: Texas, New Mexico, Arkansas, Louisiana, and Oklahoma. Angel Flight's volunteer pilots provide free flights for people who need medical treatment or other humanitarian needs.
How Angel Flights Helps
Some patients are so weakened by their condition or treatments that they have difficulty making long drives. A flight helps them preserve their strength and protect their immune system from exposure in airports and on a com­mercial flight. Other patients live in very rural areas that would require a lengthy car trip just to reach a commer­cial airport. Angel Flight pilots can pick up passengers closer to where they live.
Other Angel Flight missions include transporting blood and plasma to rural hospitals; providing flights for doctors or other medical staff volunteering their medical services; reuniting victims of domestic violence or human trafficking with their families; and flying supplies, equipment, and relief workers to disaster areas.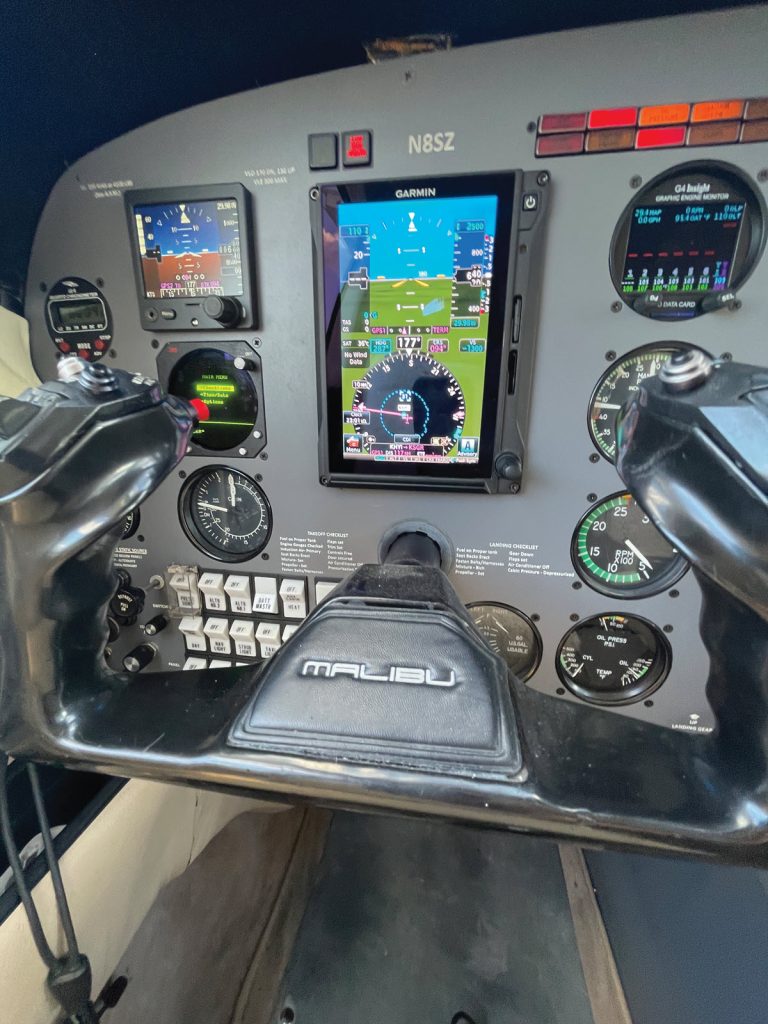 A Plane Loaded With Upgrades
A previous owner of their Malibu had upgraded the engine from a Continental TSIO-520 to a TSIO-550, which helps both climb and performance at high altitude, and had also added an
Insight G4 engine monitor. The plane already had the new-style LH cockpit side window that doesn't have a storm window.
Ed and Stan did more work on it after the purchase. "Since we've owned it, we have installed a new-style heated pilot's windshield, which was quite expensive, and upgraded the avi­onics to include a Garmin G500 TXi primary flight display with GAD 43E and an L3 ESI-500 backup instrument.
"The G500 TXi has a very slick interface with our old legacy King KFC 150 autopilot, but due to its age, we're considering up­grading it in the future. We've also ordered a four-blade MT pro­peller with the new-style blades that have nickel leading edges."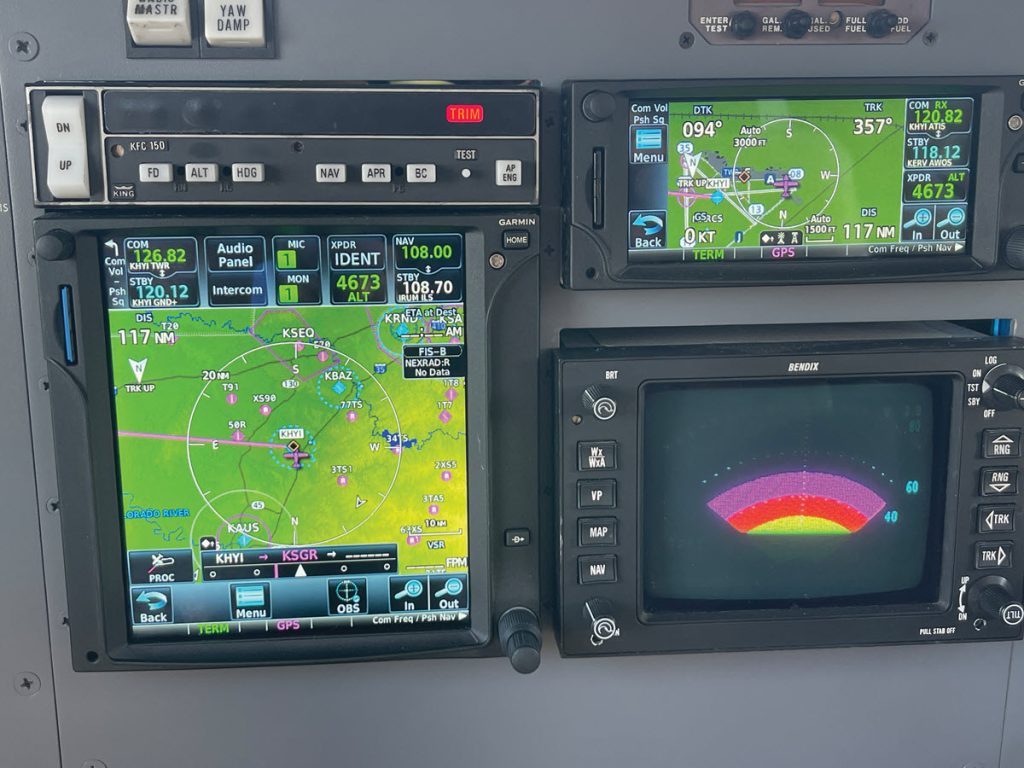 RESOURCES
Malibu / M-Class Owners & pilots Association (MMOPA) mopa.com
Casey Aviation, Inc. and Joe Casey (insurance, recurrent training, and skills refresher training) flycasey.com
Mead Aircraft Services, Inc. and Kevin Mead (maintenance services) meadaircraftservices.com
Angel Flight South Central (free medical and compassion flights) angelflightsc.org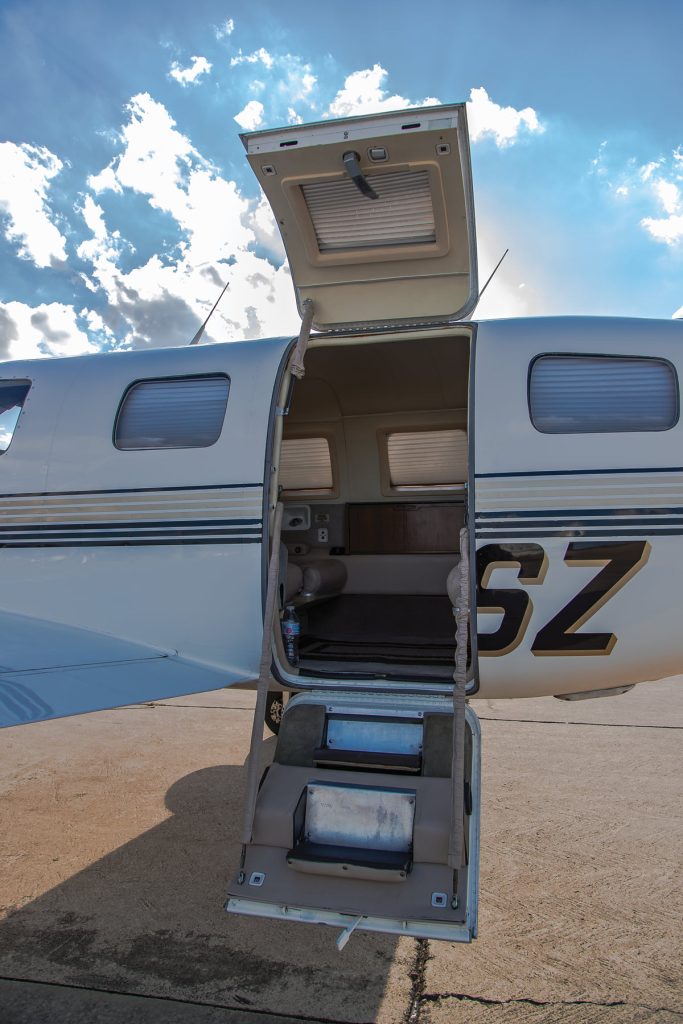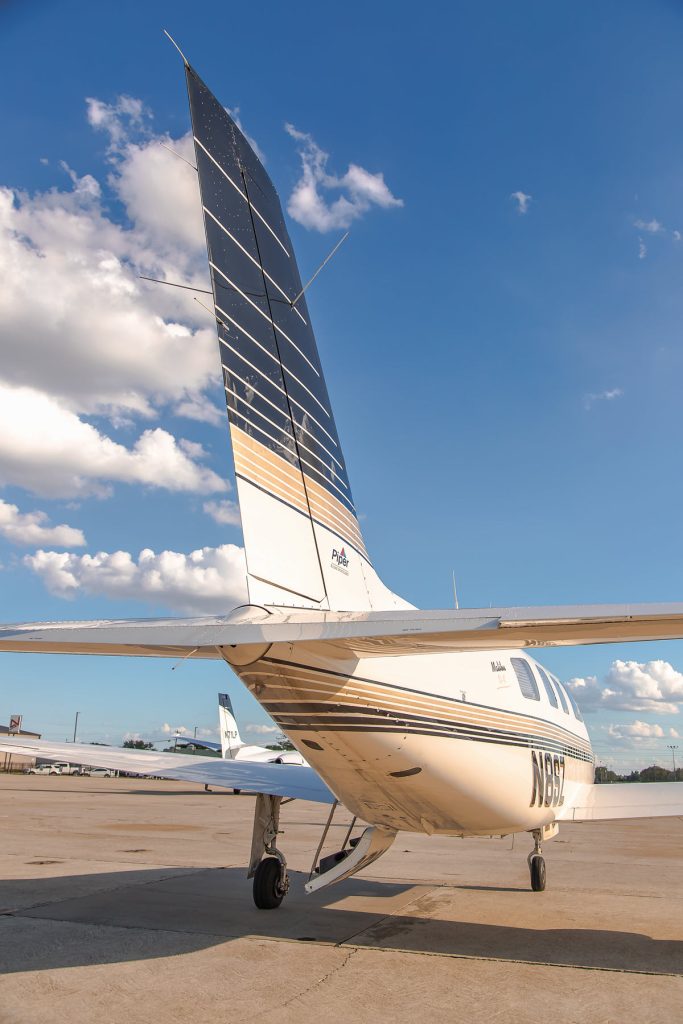 Pressing On
Stan loves the Malibu's pressurization. "It makes long trips completely different, both for my passengers and me," he said. "Living near sea level, climbing straight to 9,000 to 10,000 feet for several hours left me tired after a long day of flying. But now, with the Malibu, having the cabin at 5,000 to 6,000 feet, when the airplane is at, say, 20,000 feet (out of the bumps and generally out of the clouds), leaves me much more refreshed at the end of a day of flying." A side benefit of the pressurization is the low noise level. "The Malibu is the quietest single engine-airplane I've ever been in," Ed said.
He also appreciates that the plane is designed to make the most of its fuel, considering its size and capability. "Piper and Conti­nental worked together for a fuel-efficient solution, with Con­tinental designing everything around lean-of-peak operations."
| | |
| --- | --- |
| Specifications | |
| Engine make/model | Continental TSIA-520BE |
| Horsepower | 310 |
| TBO | 2,000 hours |
| Fuel type | 100LL |
| Propeller | Three-blades, constant speed |
| Landing gear type | Tricycle/retractable |
| Gross weight | 4,100 pounds |
| Std empty weight | 2,460 pounds |
| Useful load – std | 1,640 pounds |
| Usable fuel – std | 120 gallons |
| Payload – full std fuel | 920 pounds |
| Wingspan | 43 feet |
| Overall length | 26 feet, 5 inches |
| Height | 11 feet, 5 inches |
| Power loading | 13.2 pounds per horsepower |
| Wheel size | 6.00-6 |
| Seating capacity | 6 |
| Cabin doors | 1 |
| Cabin width | 48 inches |
| Cabin height | 47 inches |
| Performance | |
| Cruise speed at 75% | 215 knots |
| Fuel Consumption at 75% | 16.5 gph |
| Best rate of climb, sea level | 1,143 fpm |
| Maximum operating altitude | 25,000 feet |
| Stall – Vso | 60 knots |
| Takeoff ground roll | 1,440 feet |
| Takeoff over 50 feet | 2,025 feet |
| Landing ground roll | 1,070 feet |
| Landing over 50 ft | 1,800 feet |
1987 PIPER MALIBU: Specs and Performance
All specs and performance numbers are drawn from official sources, often the aircraft flight manual or the manufacturer's website. Every vintage aircraft is now different; do not use these specs to plan a flight.
PIPER MALIBU 310 TIPS
Culled from PIPERS magazine articles by Bill Cox
"Piper Malibu: The Price and Pleasures of Pressurization," Bill Cox, April 2021
"Piper Malibu/Mirage: Medium Twin with One Engine?" Bill Cox, April 2017
Singles are taking the place of twin-engine aircraft. The in­creased training needed to fly twins, combined with their ex­ponentially higher operating costs, created a niche in the mar­ket for the Malibu. The 310 was specifically created to achieve much of the twin engine's capabilities without the added fly­ing skills and costs.
When the Malibu entered the marketplace in late 1983, it was touted as the world's most talented single-engine airplane.
The Malibu's pressurization makes it a good option to fly at higher altitudes, where the ride is generally smoother and there's less traffic, without having to wear an oxygen mask. Pressurization is especially helpful for older pilots and passen­gers who are less able to tolerate high altitudes. The Mailbu's 5.5 psi allows it to maintain a sea-level cabin at 12,000 feet. At its ceiling of 25,000 feet, the cabin pressure is at 8,000 feet.
Planes relying on supplemental oxygen for high-altitude trips have several disadvantages. Oxygen masks are uncomfort­able to wear, inhibit conversation, and dry the throat. "Perhaps worst of all, available oxygen can limit aircraft endurance more than fuel supply, especially if you're carrying a full load of people," Cox wrote. "In the Cessna Turbo-Skylane RG, for example, a full 48-cu. ft. bottle of oxygen will last four people only two hours. When you run out of O2, you no longer have the option to fly high until you've refilled the system, usually at a cost of $30 or more (and then only when you can find it.)" That range limitation undermines the advantages that a high-altitude plane would otherwise have for cross-country trips, and the weight of the oxygen bottles also reduces useful load.
On the other hand, pressurized planes require a stronger, re­inforced structure, which increases weight and reduces useful load and thrust, as well as overall performance.
With all factors taken into consideration, the Malibu provides an affordable option for the pilot willing to settle for much of a twin engine's performance at a fraction of the operating cost and with lower training requirements and skill level.
Giving Back
Ed uses the plane primarily for personal and family travel, but he also donates a considerable amount of time to provid­ing free medical transportation for those who need it. "I'm a pilot of the Angel Flight South Central Region and have been flying Angel Flight missions for several years," he said. "It's a very comfortable ride for Angel Flight passengers traveling from Texas and the surrounding states to treatment in Houston or other Texas cities."
Tips for Potential Malibu Owners
Ed offered some helpful advice for pilots thinking of buy­ing a Malibu. "Pay close attention to the maintenance pedi­gree. Malibus that have been undermaintained are expensive to get caught up. Make sure the people who have been main­taining it know the PA-46.
"From a flying perspective, it's easy to fly and very docile. It's so capable, though, you can get in trouble if you're not familiar with the extra hazards associated with mid-altitude weather, particularly ice and convective activity. You also need to think differently about planning your descents."
The two co-owners are big fans of the Malibu for both its comfort and its performance. In fact, they have such a high opinion of it, they think it stands out as a unique piece of aviation engineering. "The Malibu really is in a class of its own," he said.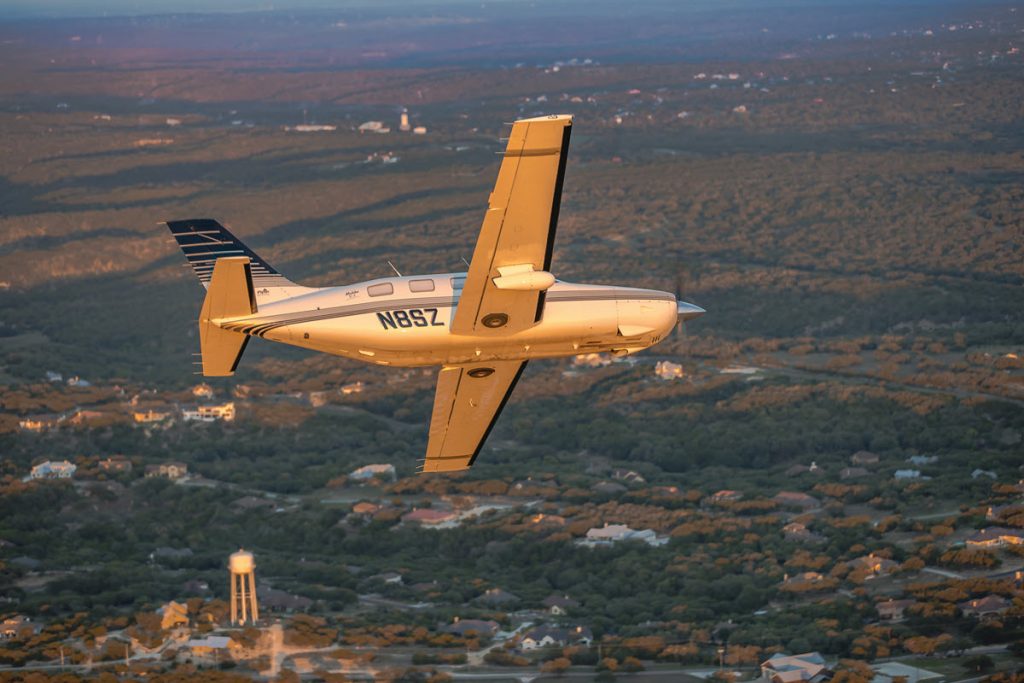 Select a photo to open a pop-up slide show