By Dan Brownell
Photos by Emma Graves
Some of the best things in life come as a complete sur­prise. That's what happened to Jeffrey Killion (who ev­eryone calls J.D.) and his fiancée Emma Graves. They bought their 1976 Piper Archer II in July 2022, but it wasn't until six months later that they discovered that N4323X had been featured as the centerfold in the February 1976 issue of Flying magazine.
The discovery was a fluke. "We put 4323X into Plus One Fly­ers, our flying club in southern California, so others could enjoy the magic of the Archer II," J.D. said. "The day before she be­came available to be rented, I did a quick Google search to get some information, and that's when I discovered she had been showcased in Flying."
The plane was a '76 model published in a '76 issue of the mag­azine because it was a plane fresh off the factory floor sporting a new Piper design. "I couldn't believe what I was seeing," J.D. said. "We owned a piece of history! The feature in that issue cov­ered Piper's new wing design for the Archer II. No longer would the wings have a 'fat' look. Piper gave the new 1976 Archer II a tapered-wing design."
But beyond its groundbreaking significance, the plane is special to J.D. because it has played such an important role for him in his aviation endeavors. "This particular aircraft holds great sentimental value for me, as it is my first airplane. After acquiring my private pilot license in 2017, it became a gateway to countless adventures and an expression of my love for flying. Its sleek lines and unwavering reliability have provided me with unforgettable experiences in the skies."
Catching the Flying Bug
Like many pilots, J.D. was introduced to aviation at a young age. From age 6 to 10, J.D. lived in a small town of around 700 in northeast Texas. "My cousin's family had a large farm nearby where we would go for barbecues and other gatherings. They also had a small Cessna, either a 152 or 172, and a grass runway at their farm. They would almost always take us up when we would go to visit them."
Around this time, J.D.'s father worked for a man they called Uncle Buddy, who owned a telecommunication company. "He wasn't really my uncle, but that's what I called him since he was in my life so much," J.D. said. "Uncle Buddy and his wife, Aunt Rhonda, traveled with their company because they would pick up contract work from the major communication companies like AT&T.
"Uncle Buddy had a truck that looked just like the one in the TV show The Fall Guy, and Rhonda drove a Camaro Z28 T-top. On top of that, they owned a Bellanca Super Viking, and Uncle Buddy would take me flying. Talk about looking up to someone who lived the pilot life! That plane was like a race car compared to my cousin's plane. I fell in love with the low-wing style of planes after my first flight in the Super Viking."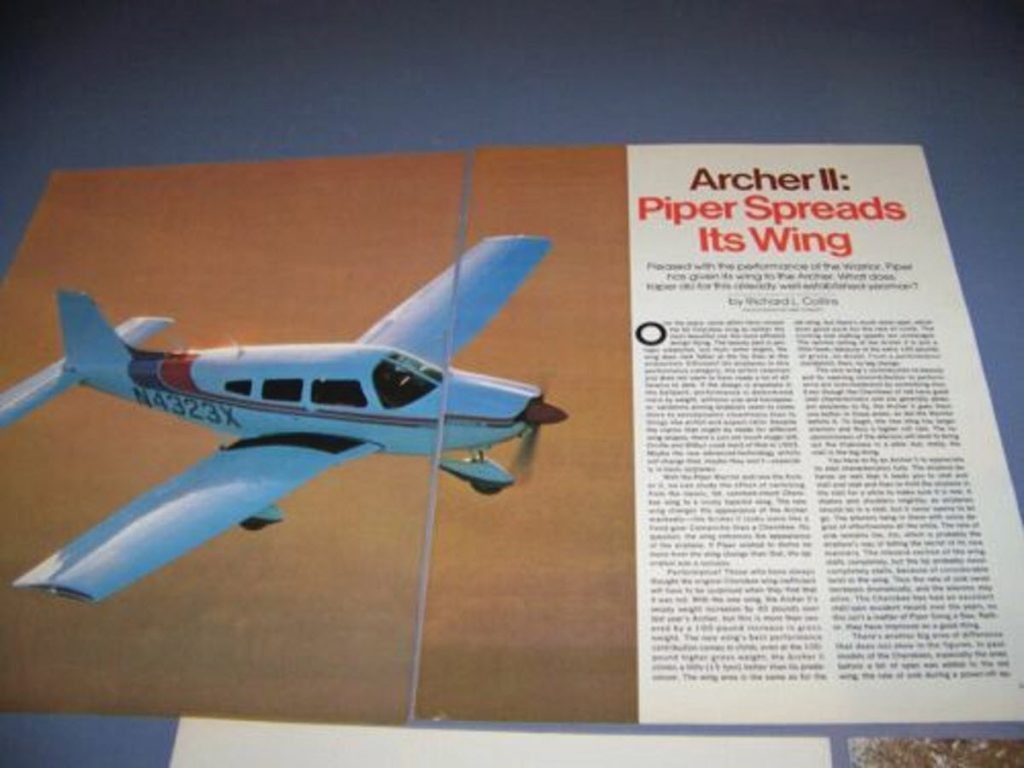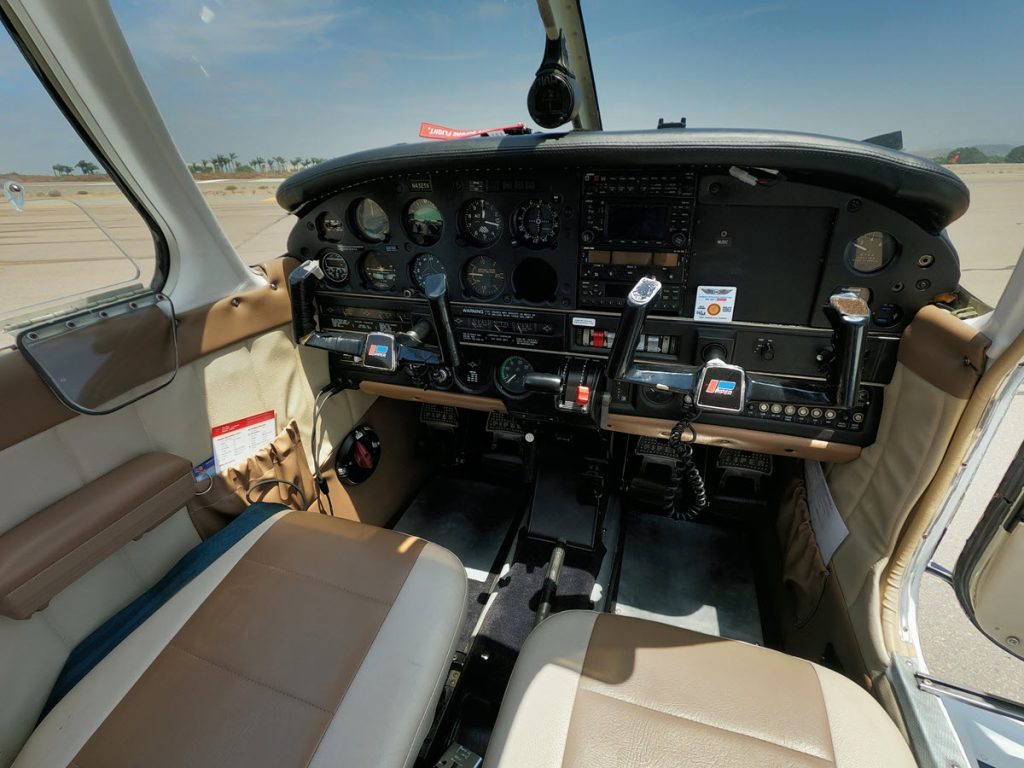 A Long Wait
Like a lot of pilots, J.D. experienced a delay of many years between developing a passion for flying and actually getting a license, but once he jumped in, he jumped in with both feet. "It wouldn't be until I was 43 years old that I obtained my PPL at Pinnacle Aviation Academy, McClellan-Palomar Airport (KCRQ) in 2017," J.D. said. "I was a somewhat newly divorced dad, so I took the kids up for a discovery flight with an instruc­tor before starting my lessons. I wanted the kids to support all the long nights of studying that lay ahead.
"The week I got my PPL, I became a member of the Plus One Flyers. The following week I got checked out to fly the Piper Ar­cher III. We loved flying that airplane. Our first trip a few weeks later was to Phoenix, Arizona, with the kids to see their cousins.
"Unfortunately, the owner of that airplane sold it in 2020. We were then 'stuck' flying Cessnas again. I guess you could say I'm a bit of a Piper snob."
Taking the Plunge Into Airplane Ownership
After renting a plane they loved and then being sorely disap­pointed when it was sold, J.D. and Emma hoped someone else would buy a Piper they could rent. But that didn't happen. "When no one else in the club at KCRQ bought a Piper, we decided we had to do it," J.D. said. "Emma and I came up with a plan. I was very fortunate to have her support and her love of flying right seat even though she's not a pilot. She just loves the experience and serenity of being up in the air. I was also fortunate to have some great airplane owner mentors to give me guidance.
"We started our online search for a plane and, within a month, we found 4323X at Falcon Field in Mesa, Arizona. She had pretty much everything we were looking for: a Piper Archer II with very low engine time (50 SMOH) and a decent interior. I sent the deposit to the owner, flew out to Mesa to look at the plane in person, took it for a test flight, and then hired a local A&P to conduct a pre-buy inspection.
"We financed the plane, which was quite the experience. A word of wisdom: if you're financing, request a loan officer who specializes in aircraft loans. I think our loan officer may have done one aircraft loan in his career."
1976 PA-28-181 Piper Archer II
All vintage planes are different. Do not use these to plan a flight. Source: Standard Catalog of Piper Single Engine Aircraft (PiperOwner Society).
| | |
| --- | --- |
| Engine | Lycoming O-360-A4M |
| Horsepower | 180 |
| Top Speed | 148 mph (129 kts) |
| Cruise Speed | 143 mph (124 kts) |
| Economy Speed | 117 mph (102 kts) |
| Fuel Capacity | 50 gal (100LL) |
| Range | 650 sm (@ cruise) |
| | 851 sm (@ economy) |
| Gross Weight | 2,550 lbs |
| Empty Weight | 1,390 lbs |
| Ave. Useful Load | 1,160 lbs |
| Takeoff Ground Roll | 870 feet |
| Takeoff Over 50 ft Obstacle | 1,625 feet |
| Landing Ground Roll | 925 feet |
| Landing Over 50 ft Obstacle | 1,390 feet |
| Rate Of Climb | 735 fpm |
| Service Ceiling | 13,650 feet |
| Doors | 1 passenger, 1 cargo |
| Seats | 4 standard, 0 optional |
| Dimensions (all approx.) | |
| Fuselage Length | 23 feet, 9-½ inches |
| Fuselage Height | 7 feet, 3-½ Inches |
| Total Wingspan | 35 feet |
New Paint and a Fresh Interior
As soon as J.D. and Emma purchased their Archer, they began an upgrade. "Since our acquisition, we have poured our hearts into enhancing the aircraft's appearance and comfort. A com­plete repainting of the airplane, along with a meticulous interior refurbishment, has breathed new life into N4323X.
"We flew her home on a Friday, and on Saturday flew her to Corona, California, to go right into a paint shop. We went with a white-only paint job and decided to do the graphics with a vinyl wrap. At the paint shop, they replaced the wing tips, stabilizer tips, and tail cone cover, and we added a wing-root fairing kit for a speed mod.
interior. We were fortunate to have an upholstery shop at KCRQ to assist with the interior. The seats and panels were in decent shape, and just needed a good cleaning. We replaced all the carpet and restored the dash/eyebrow. Some of the windows were glazed from the Arizona sun and time, so we replaced them.
"Because we were going to be putting the plane into the flying club, we decided to go with black carpet, and we added a few things like a leather door-handle strap. Other plane owners gave us advice on how to make the plane 'bulletproof' for renters.
"We also switched out the old landing light with a new LED landing light. Once the plane is paid off, we plan to upgrade to a more modern panel, but we're not sure exactly what that will look like yet."
It's common for owners to have second thoughts about how they did their restoration and upgrades, such as money that could have been saved or used for something else, or the quality of work that could have been better. But J.D. doesn't have any misgivings about what they did. "Looking back, I wouldn't have done anything dif­ferently," he said. "There were a lot of hurdles and learning points for buying and restoring our first plane, but those experiences are priceless. They've taught us a lot that we can use as we go forward."
J.D. offered some advice to other pilots who are considering buy­ing their first plane. "If you're buying any plane that's older, expect to fix or upgrade anything and everything, depending on the his­tory of the plane. New avionics and electronics are flashy, but not necessary to have great flights. A good pilot and sound airplane, make great flights."
Praise for Performance
J.D. has nothing but good things to say about their Archer II. "A few months after 4323X was in the club, I received an email from a previous owner in Idaho. When we got the plane, there were a few Idaho stickers on the side windows, and I had wondered about them. The owner's email answered that question, explaining that he bought the plane in 1990. He said, '23X absolutely jumped off runways, which is why it was so popular for backcountry flying.'"
J.D. discovered that the previous owner was right. "When we flew 4323X home from Arizona, it was 115 degrees at Falcon Field. I had my doubts about the performance prior to takeoff, but just as the owner said, she jumped off the runway, and I knew she was special. And she is special to us for more than one reason. We are so excited to have a plane with so much history, knowing she's been a part of so many other pilots' and passengers' lives.
"There are many other positive things I can say about our Archer II," J.D. said. She handles like a dream. She does exactly what you want or what you think a plane should do, whether it's taking off, maneuvering, or landing. Landing is so graceful that we refer to almost all our landings as 'butter.' And the cockpit is super roomy, making cross-country flights more enjoyable.
"N4323X is based at KCRQ airport in Carlsbad, California, where it proudly stands as a testament to the enduring legacy of Piper aircraft," J.D. said. "I'll continue to be a Piper snob. If you want to fly a powerful, graceful, and comfortable plane, fly a Piper Archer II!"
Some Final Thoughts
J.D. and Emma are thoroughly enjoying 23X, but they want to inspire others to become pilots too. Their goal is to have a plane that others can fly to build their own memories and ex­periences. "My son is getting out of the U.S. Marine Corps this year, and he wants to start flying," J.D. said. "We want to provide him with a great plane to start his next chapter in life and to continue the history of 23X.
"By sharing our airplanes, we can provide the gift of flight to those who may never have the chance otherwise. And as pas­sionate aviators, let us embrace a mindset of constant improve­ment, enhancing our skills and knowledge to become better pilots. We can create a brighter future for aviation and make a lasting impact on the lives of others."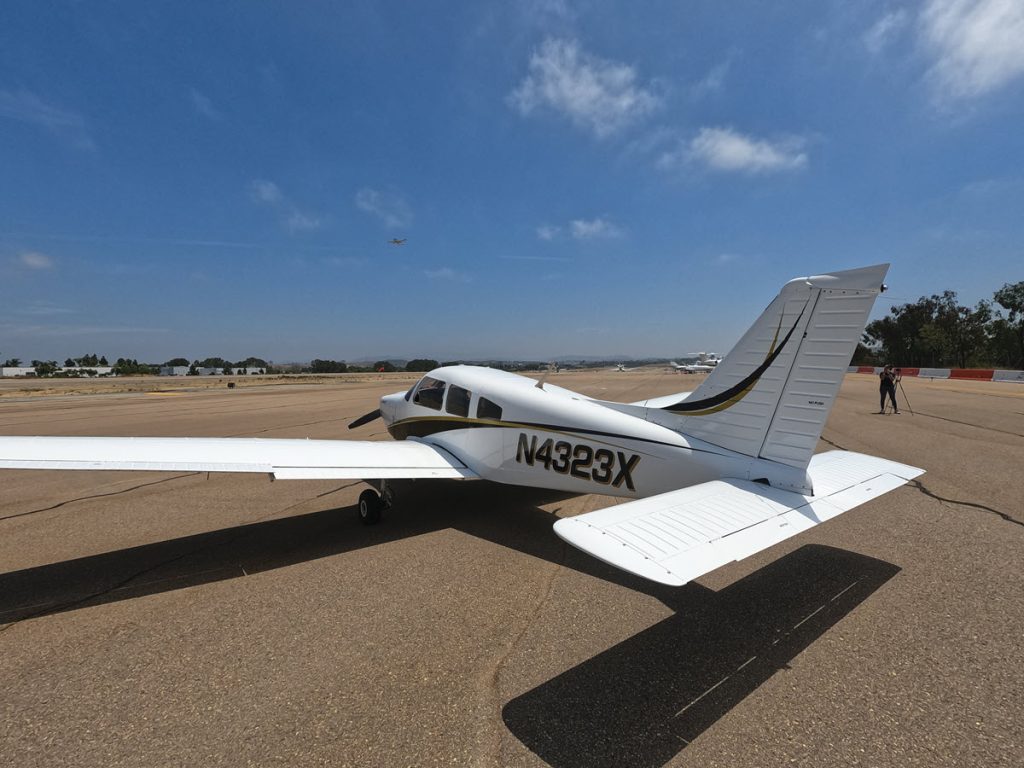 THANK YOU'S
J.D. extends his appreciation to all who helped him along the way.
Emotional support: my fiancée/my queen,
Emma Graves.
Flying passion: Uncle Buddy.
First flight instructor: Eric Garcia, who said, "I wish
they would make Avgas into a cologne." I knew
we were going to be friends after he said that!
Mentors/key people: Patrick Williams, Jaime
Zazueta, Terrance Williams, Jeremy Williams,
Elena Snover, Walter Villaume, Robert
Anderson, and Noah Stroobosscher (in no
particular order, as they've all been equally
instrumental to our success).
RESOURCES
Orion Aviation, KCRQ
Leading Edge Aviation, KCRQ
Custom Aircraft Interiors & Design, KCRQ
Red Carpet Aviation, KCRQ
Corona Air Paint, KAJO
Aircraft Spruce & Specialty Co.
Knots 2U
Select a photo to open a pop-up slideshow