A Top-Notch Restoration Down Under
By Darek Sygidus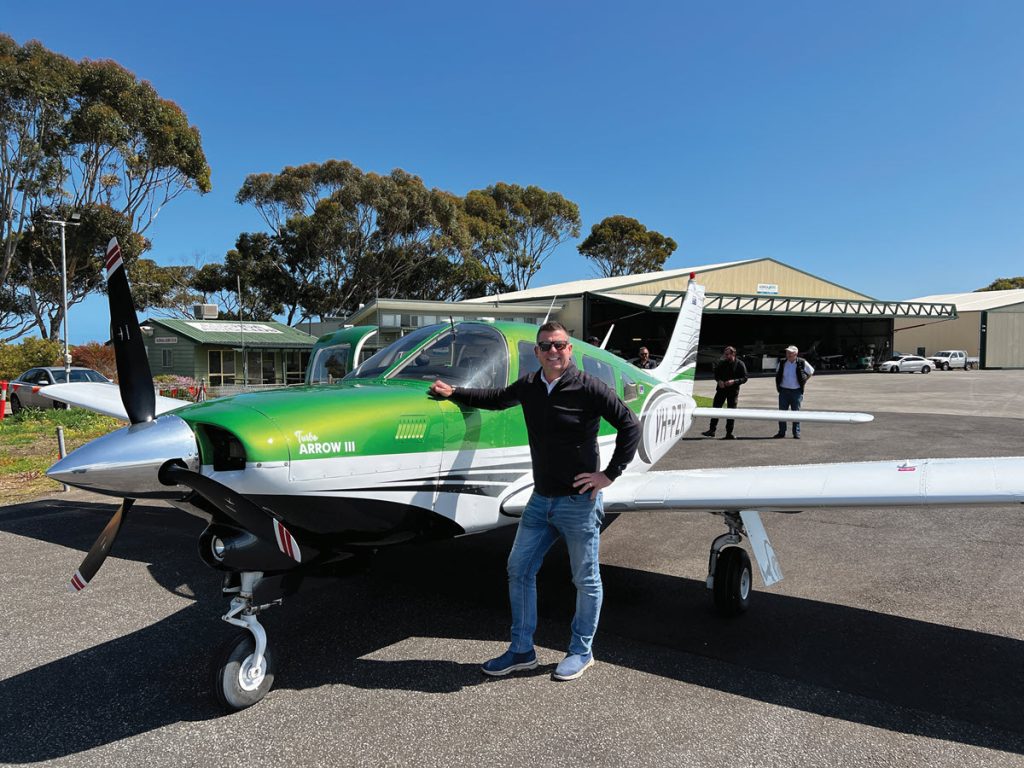 I have had a passion for aviation since I was a kid. I loved mili­tary aircraft and always made models. As I got older, I started with some basic remote-control planes, but I let it go to fin­ish school and socialize. I started a business here in Australia with my brother in commercial structural steel, and in 2006, we began racing jet sprint boats, which we continued doing for 13 years. I became an Australian champion in the Group A field in 2011, and then we moved into the Superboat Class. I raced until COVID-19 hit, and then racing ceased for nearly two years.
In 2020, I spoke to a friend who was a pilot in the '90s. He said, "Why don't you give flying a go?" and he passed his books and flight computer on to me. I tried to book a trial instruc­tional flight (TIF) with a school, but a couple weeks later they were in lockdown. So I found another flight school, InterAir at Essendon Airport Melbourne (YMEN). I took my first TIF with Norm, an InterAir pilot, and I was hooked.
I started my training and got my recreational pilot license (RPL). Then I juggled training with work, and now I have com­pleted my PPL and am flying a lot.
Maybe the Fastest Plane Sale in History?
The story of how I found and bought my plane is a bit un­usual, to say the least. I had booked a Cessna 172 training air­craft to take my wife to Tooradin Airport (YTDN) for lunch at a restaurant called Wings and Fins, a fly-in seafood restau­rant in Western Port Melbourne. The weather was perfect, but when we arrived to take the plane, I was told that because the weather was good, the plane was now booked for training.
I was upset and told my flight instructor that I needed my own plane. He said, 'Well, there's one over there.' I replied, 'OK, I'll take it.' I purchased the 1977 Turbo Arrow III and started looking at the modifications I wanted done. My budget started at about $100,000, but I ended up spending over $350,000. The more I studied the project, the more I wanted to do, so I decided to go all in. This is an overview of the work I've had done:
Interior stripped and replaced with new leather seats and panel.
All cables and hydraulic lines changed.
New instrument panel installed, featuring a G3X 10-inch and 7-inch, two GTN 650s, a GTX 345R, a G5, a GMA 350C, and a GFC 500AP with 3-axis.
Past-TBO engine replaced with a new Continental TSIO-360FB1B.
Paint stripped back to original skin and given a new coat.
Engine
When I bought VH-PZX in May 2021, the engine was past TBO and needed an overhaul. Being a young, fresh pilot as well as an ex-boat racer, I knew the engine must be replaced with a new one if I was going to fly it with my family and give them the confidence that the engine has no underlying issues. I'm the first one in our bloodline to get a pilot's license, so you can imagine a lot of people are intimidated by and slightly fearful of small aircraft.
Interior and Exterior
I then started on the inside with the upholstery. I Googled some new aircraft interiors and gave them the design I wanted, including green stitching and the old Piper logo, as it matched the new yoke badges.
Next was coming up with a plan for a new ex­terior paint design. I started flying in Cessnas, as pretty much every pilot in the world has, and I liked the Cessna TTX and its color scheme. So I engaged Scheme Designers to do something similar, but with alterations so as not to infringe on any copyrights. The paint scheme is very modern, and it makes the Arrow look like a new aircraft. I haven't had anyone dislike the color scheme, and it matches our houseboat at Lake Eildon that I designed and built with my brother.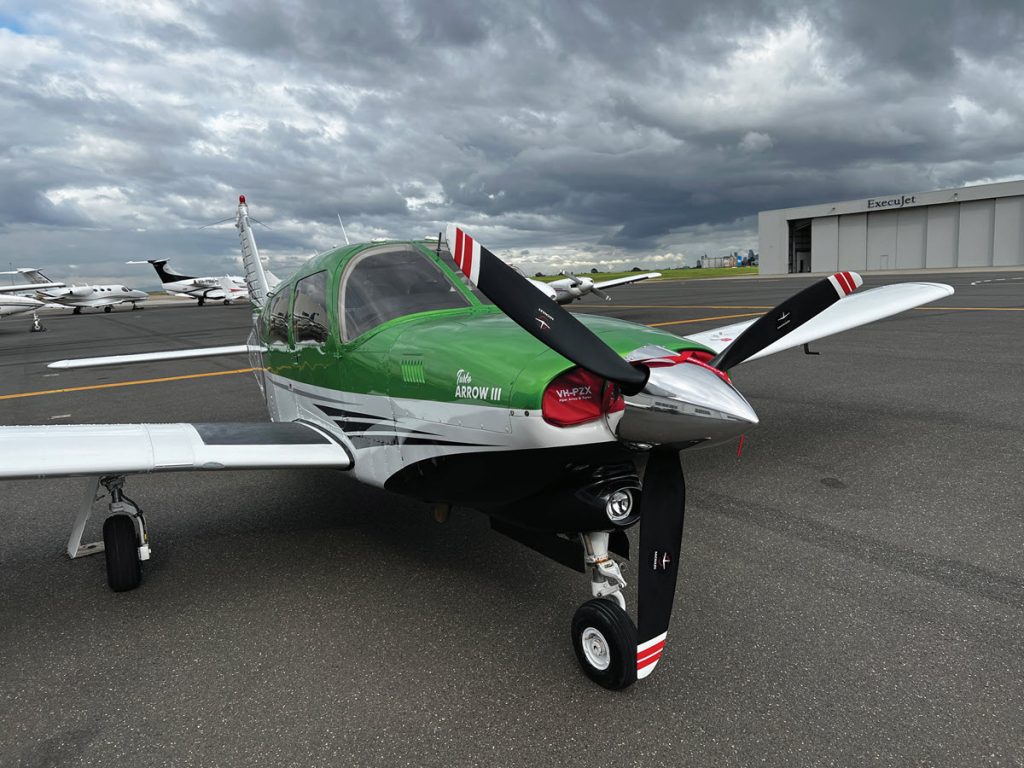 After seeing lots of YouTube videos for training from the U.S., I suppose the main difference is that we don't have anywhere near the amount of air traffic America has. Congratulations to all the pilots in GA in the USA, who are so professional with their calls and alertness in busy airspace.
A Shout Out to Those Who Helped
Norm from InterAir is the first person I have ever flown with and the person from whom I got my RPL wings. I have now been training with Ted Shelley and Ahmed Ibrahim for my private pilot license (PPL). They're professional pilots on their company's King Air, and I appreciate them giving me their time to complete the PPL in my own aircraft. I would really like to thank the whole InterAir team for their dedication in construct­ing my plane and training me.
Suzanne Evans at Merlyn Products advised me that my Mer­lyn Wastegate was the last one of its kind, as the new design will be done through Jonathan Nordhagen from Nord Engineered Products LLC. He was an engineer there for over 18 years, and he has taken over the design awaiting FAA approvals.
Jeff and Joy from Turboplus Aircraft Systems, Inc. provided the new intercooler kit, and they were amazing to deal with.
John Paul Townsend of General Aviation Modifications, Inc. (GAMI) provided forms for the injector upgrades, we provided the information, and the parts were ordered.
I ordered and installed the vortex generators from Knots2U.
These upgrades were purchased based on research and ar­ticles found in Pipers magazine and Piper Owner Society on­line articles and posts. The articles I researched agree that these upgrades are beneficial for safety and performance, so I would recommend them to any Piper owner.