Middle Ground: PA-28R-201T Splits the Difference Between Speed and Affordability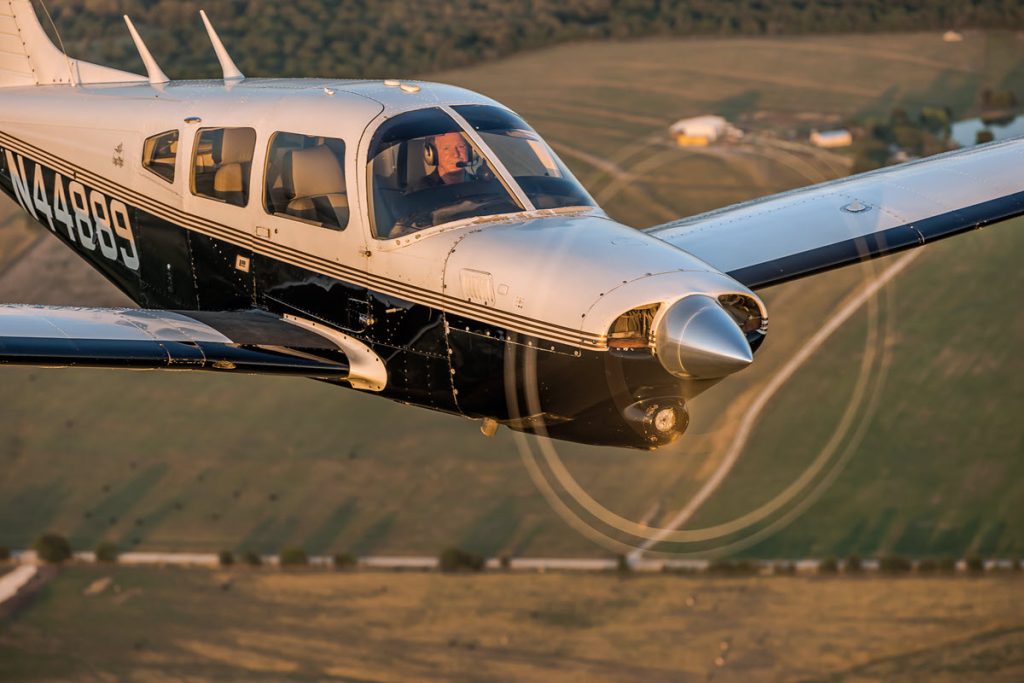 By Rocky Landsverk
Choosing your airplane is all about knowing your mission, and a Piper Turbo Arrow can fit that mission perfectly if you want more speed than a more basic airplane but more efficiency than a twin.
For many people, the Turbo Arrow is the perfect compromise. For some owners who had twins for corporate use, like Piper Owner Society Aviation Director Scott Sherer, upon moving into semi-retirement, a Turbo Arrow can be more affordable to fly, in Sherer's case versus his previous Seneca. For other plane owners, their mission expands with a family or a different economic situation, and they can afford to move up to a Turbo Arrow.
"Know your typical flight mission," said David Glasscock, who flew a 1978 Turbo Arrow. "If it's mostly short trips and lower elevation airports, it's not worth extra maintenance and fuel costs. Get a normally aspirated plane.
"However, I flew my Turbo Arrow for 16 years at 7,000 to 10,000 feet, rarely higher. It's a true 150-knot airplane at those altitudes. It's a great airplane, but I had to sell and buy bigger (Cessna 210) for higher payload capacity."
Add it all up, and as pilots move through their ownership careers, some pass through a Turbo Arrow in one direction or the other, and others land at Turbo Ar­row and retire with it.
Here's what some owners and past owners advise if you're new to a Turbo Arrow or considering one.
Turbo Arrow Top Tips
Scott Sherer
1977 PA-28R-201T
Check for corrosion as best you can. Window leaks and out­door storage are the most likely culprits. Check for corrosion, especially if the plane comes from an ocean area.
Cylinder problems start at around 1,400 hours on the engine. Make sure you have a TSIO-360FB (1,800 hour engine TBO).
Check factory service hours for wing spar problems.
Brent Haskell
1978 PA-28R-201T
Go for one that has the Merlyn wastegate and an intercooler. Makes engine management so much easier.
David Glasscock
Former Owner, 1978 Turbo Arrow
Borescope the engine, do the wing spar inspection, check for the prop governor reseal.
Huey Segura Jr.
1977 PA-28R-201T
Make sure all ADs are up to date, including the wing spar inspection.
Inspect landing gear bushings for wear.
Check logs for maintenance currency.
Raul Arevalo
Former Owner
Don't use full throttle at sea level!
Let the turbo cool down after landing.
Beware of the automatic landing gear.
Edward Massari
1977 PA-28R-201T
What engine mods are installed? Look for wastegate and vacuum system.
What exterior mods are installed? Look for gap seals and wing tips.
Have the avionics been upgraded? Look for an autopilot.
How do Turbo Arrows compare to other types you've owned?
Scott Sherer
Piper Seneca II and III.
The Turbo Arrow is almost as fast as the Seneca on half the fuel, one-third less insurance, and half the maintenance. It's not a heavy hauler like the Seneca, but for two people or a young family, it's much less expensive and parts are easy to get, as is maintenance. It's fast, easy to fly, and easy to maintain.
Brent Haskell
Compared to Cherokee 140 and Cessna 172, the Arrow is a fantastic traveling machine, but it is more expensive to main­tain and fly.
David Glasscock
Normal aspirated Arrows are less cost to maintain and operate. Cessna 182 provides shelter when loading and unloading or wait­ing for Lyft ride. Turbo Arrow is faster and better visibility dur­ing cruise. Turbo Arrow fixed wastegate is a compromise. Throttle management on takeoff roll is important to prevent overboost.
Huey Segura Jr.
It performs much like a 182 at 5,000 ft or lower. At 10,000 feet and above, it's closer to a Saratoga. It won't climb like a Saratoga, but it will cruise within 5 to 10 knots.
Edward Massari
Faster and more useful load than a Cherokee 180.
Kevin Stevens
[Stevens is a former Turbo Arrow Owner who now owns a Turbo Cessna 182.] "Turbo Arrow is fast and easy to fly. I didn't like climbing over the wing to get in and out. C182 Turbo is a bit slower, but two doors and weight capacity are better than Turbo Arrow."
In your experience, what should always be upgraded/restored on a Turbo Arrow?
Scott Sherer
A Merlyn "Black Magic" upper deck controller should be in­stalled to help increase engine life.
Brent Haskell
Merlyn wastegate, pressurized mags, intercooler.
David Glasscock
Prop and governor, gear power pack.
Huey Segura Jr.
A Merlyn auto wastegate controller is a must. I recom­mend GAMI injectors or some kind of similar upgrade. Have the engine borescoped to determine if the valves and cam are good.
Edward Massari
Turbo wastegate.
Kevin Stevens
Engine monitoring system, and an intercooler if you can afford it.
What is the best reason to get a Turbo Arrow?
Scott Sherer
Speed, high-altitude flying, economy, easy to maintain.
Brent Haskell
For easy trips out to about 500 miles.
David Glasscock
Speed and docile stalls, good fuel burn.
Huey Segura Jr.
Very good cross-country flyer, very stable. Good IFR trainer.
Edward Massari
Stability, speed, useful load.
Kevin Stevens
Fast, and the turbo gets you out of high-altitude airports. You have to really be on top of manifold pressure gauge on takeoff and climb or it will run away from you in a hurry.
Cover Plane Owner Started in Maintenance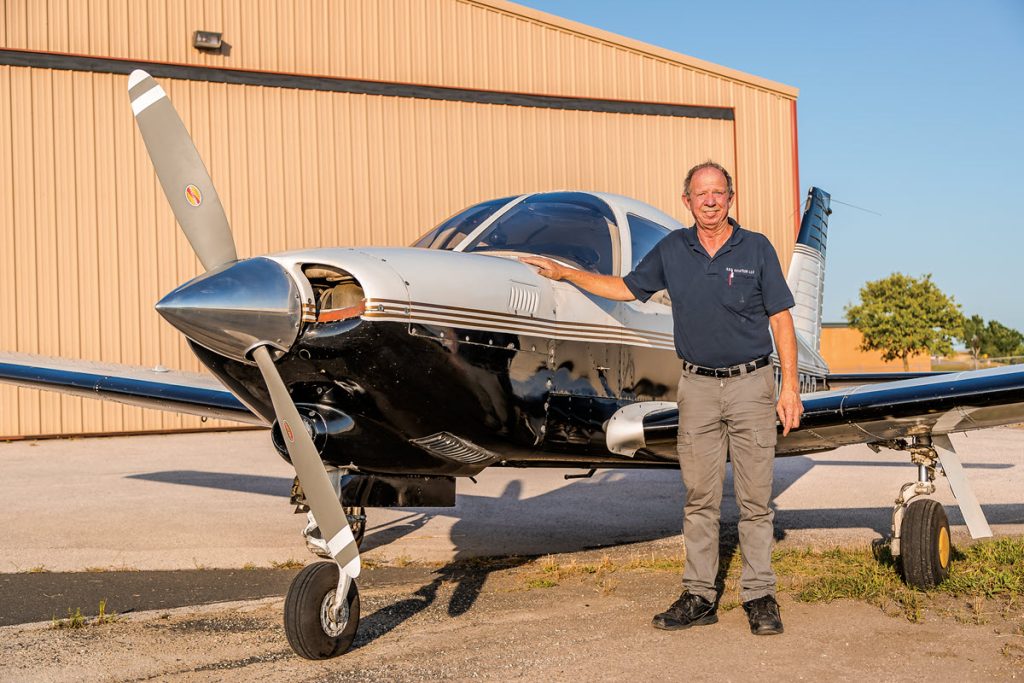 Cover Plane Owner Started in Maintenance

Cover plane owner Bradley Gray took an unusual path to flying Pipers — he worked on them before he flew them. He was an A&P before he became a pilot, and he's now an IA, also.

"I started maintenance first," Gray said. "A friend of mine who was an instructor got me interested in it, and then I ended up buy­ing a plane and restoring it. I got my private pilot's license and my instrument rating in that one. I was working on them for 15 years before I ever got my pilot's license."

That first plane was a Cherokee 140, which he bought in 2013. He eventually moved up to the Turbo Arrow for the speed. "We added the speed mods, the wing fairings, the wheel spats, and flap gap seals," he said, adding those were all from Knots2U.

On the panel, he went nearly all-Garmin: GTN 650 (audio panel, GPS, nav/comm), GTX 345 (transponder), GPSMAP 696 (all-in-one navigator), G3X (primary flight display), and GFC 500 au­topilot. He said he's always used Garmin; he also put 650s in his other planes.

Gray runs B&G Aviation (bandgaviation.com), which specializes in King Airs but works on Pipers and Cessnas also. They do pretty much everything, including maintenance, engines, and airframes. They farm out interiors and painting to other local companies.

He said adjusting to the Turbo Arrow was mostly just a matter of learning to handle its speed. "You have to learn to slow down to approach speeds," he said. "You cannot wait until the last minute to start your descent. On a 180, if you pull the power back, it'll drop. An Arrow practically picks up more speed."

That's all the expense of fuel, of course. Gray said he gets about 12 gallons/hour, running rich of peak, "I'm not a lean of peak guy," he said.
What should always be on a prebuy checklist for a Turbo Arrow?
David Glasscock
Inspect the power pack, prop governor, turbo, exhaust stack, auto gear extension, cylinders, inflight mag check, cam and crankshaft.
Huey Segura Jr.
Wing spar inspection.
MORE TIPS
See the November 2018 issue for more tips from Turbo Arrow owners. Read it at piperowner.org/nov18. Here are a few high­lights from that issue.
Joe Daneri
Best Reason to Fly this Airplane: Very capable aircraft for the price. Great for cross-country trips with the ability to climb to 20,000 feet. Excellent payload for a single engine with incredible range.
Advice to somebody who's considering buying this model: If your mission is to fly longer trips in a good performer at decent speeds without breaking the bank, this is an excellent option.
The 1977 PA-28R-201T is not a beginner's aircraft, and not conducive for training or flying around the patch. This engine requires precise handling to avoid unnecessary wear.
Loren Starcher
Biggest Ongoing Challenge: Power pack for hydraulic sys­tem for landing gear replaced twice in 10 years. Oil change re­quires special fitting from Bogert due to tight spacing of oil drain, otherwise it can make a mess. All six cylinders replaced at ~1,400 hrs.
Click on a photo to open a pop-up slideshow