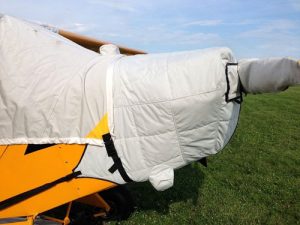 Bruce's Custom Covers announced their new and improved insulated covers for aircraft engines. Insulated covers from Bruce's are constructed using 3M Thinsulate for superior heat retention and WeatherMax performance fabric for maximum durability.
Bruce's engine covers come with many customization features specific to each aircraft application. Bruce's has been manufacturing custom-designed aircraft covering systems for more than 37 years, enhancing and improving their products along the way.
Insulated aircraft covers from Bruce's are manufactured using 3M Thinsulate, a widely recognized winter insulating material. Made of synthetic fibers, Thinsulate is a thin and lightweight filler material that works to trap internal heat. Thinsulate gives Bruce's aircraft covers their unique insulating ability and works even under damp conditions allowing potentially corrosive moisture to escape.
The shell of Bruce's insulated covers is constructed using WeatherMAX LT fabric to protect from the elements and give a quality, long lasting appearance. Designed to be watertight yet breathable, WeatherMAX fabrics are also mildew resistant and washable.
Bruce's covers are lightweight, transportable, and easy-to-handle. Properly fitted to each customer's application, insulated engine/cowling covers cinch around or behind the spinner and cover the entire engine cowl area, including air inlets and exhaust pipes. To ensure accessibility, covers include custom flaps for oil filler doors, cable outlets, and more to simplify access to internal components. Customization can be done in many ways, including the accommodation of preheater systems.
Bruce's insulated covers are an optimum solution for wintertime aircraft operations. One example is Sikorsky Helicopter where their cover's effectiveness proved greater than expected while testing a preheat system:
"The idea was to expose the QCA (quick-change assembly) with the cover on for a full 24-hour period. In other words, we wanted to get the temperatures down to -40°F and cold soak it for a full 24 hours prior to starting the warm-up testing," stated a ground support equipment engineer with Sikorsky. "However, the cover was so good that in four days not all the components on the QCA reached -40°F. It was eventually decided that not every component had to reach this temperature, and on the middle of the fourth day we started the preheat procedure. In an hour, all the components reached above the required -25°F, which would enable flight."
He continued, "The cover was extremely effective, and it's easy to install, even for one person. The access panels for the heater duct hook-ups are great. The cover really proved to be a great asset, and it was a pleasure working with Bruce's."
Insulated engine covers from Bruce's are designed to wrap around an aircraft's cowling, sealing it from heat loss and benefitting aircraft operators in three ways:
After an aircraft is flown, a warm engine can maintain its heated state for longer periods with an insulated cover allowing for improved re-starts in cold environments.
Second, an insulated cover from Bruce's significantly increases the efficiency and effectiveness of engine preheat systems.
Third, an insulated cover can help preserve an engine during prolonged storage. Protecting an aircraft engine from cold start wear and tear with a Bruce's Custom Cover will ensure that engine components reach their maximum potential.
Bruce's Custom Covers is the original designer and manufacturer of the world's finest protective aircraft covering systems for airplanes, jets, helicopters, gliders, QEC off-link jet engines and ground service equipment. Bruce's uses state-of-the-art materials and methodologies to ensure durability, quality and finish. Bruce's Custom Covers is committed to advancing the science and art of cover design to meet the demands and expectations of customers worldwide.
For more information, visit www.aircraftcovers.com or call 1-800-777-6405 (U.S. and Canada).