As the Featured Plane articles and Member Restorations flow through the magazine, a trend started to take shape: Many of the submissions we're seeing include vortex generators.
Sometimes they're hard to spot, but you can see those little diagonal additions to the trailing edge of the wings and stabilizers on many of our airplane pictures.
We've written about VGs before, including a comprehensive look at Micro AeroDynamics VGs written by Jim Cavanagh in the August 2016 issue of PIPERS magazine. That article goes much more in-depth on the mechanics, but the real question is: What do our members think?
Ask other pilots about VGs in your Piper. Click here.
How Piper vortex generators work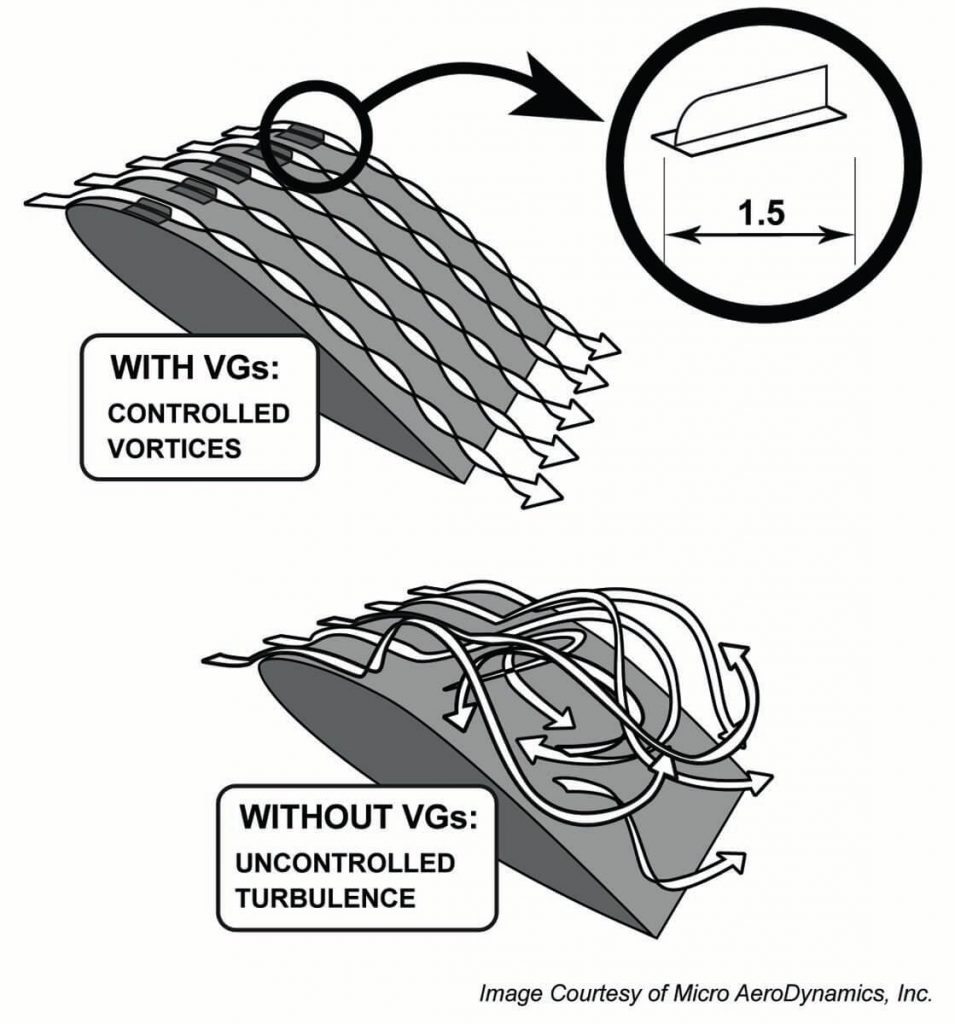 You already know how a wing works, and the forces that are taking place to make the plane rise.
What VGs do is create a different airflow on the wing, helping it control the air so it "sticks" to the wing better.
"Referencing the illustration above, note how smoothly the air flows over the wing with VGs installed (top) as compared to without them (bottom),"
Cavanagh wrote in his earlier article. "A VG creates a tiny vortex in the airstream over an airfoil. This vortex energizes the normally stagnant boundary layer of air on the wing's surface. An energized boundary layer is more resistant to flow separation than a stagnant boundary layer. The result is that airflow 'sticks' to the wing better, permitting flight at lower airspeeds with improved control authority."
Members can read Cavanagh's Piper VG review article for installation information and other tips. Note that you will need an A&P to help you install the VGs, and you'll need a Form 337. You may wind up with VGs not only on the wing, but also on the vertical stabilizer and the underside of the horizontal stabilizer.
In this article, we'll focus on VGs from Micro AeroDynamics of Anacortes, Washington, one of the leaders in VG technology. Charles White started the company in 1989 after his previous company had received an STC for a VG kit for a Beech Baron. He saw potential in the single-engine market, for good reason.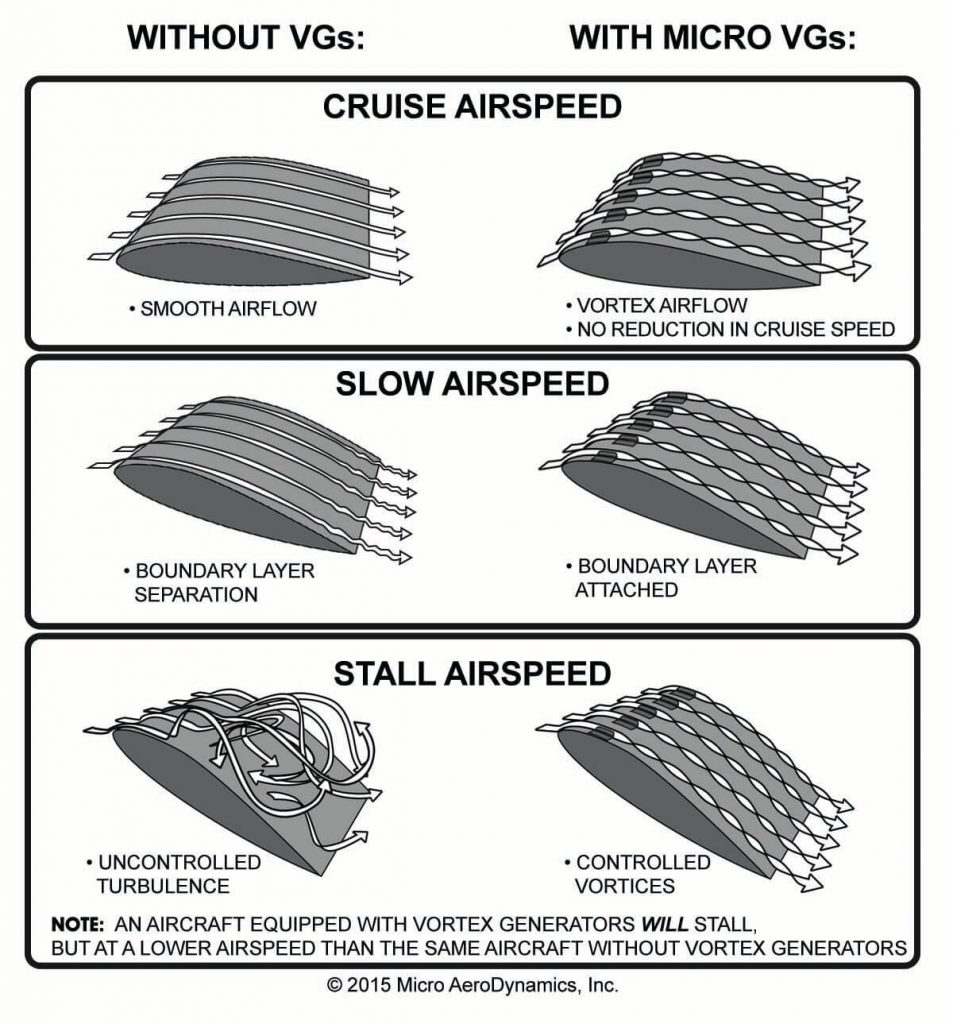 Ask other pilots about VGs in your Piper. Click here.
Members' opinions on VGs
Many of the planes in our magazine in the past few years have VGs. Zach Wright has Micro AeroDynamics VGs on two planes, including his Piper PA-12 Super Cruiser.
"On my PA-12 I wouldn't have it without them," he said. "I bought the plane, and have it rigged up for slowest takeoff and landing speed. The VGs make it easy, among many other STCs I have on it. The plane is difficult to even stall, really, and just keeps on flying. I am sure the VGs are doing their job in both applications and can highly recommend them."
Zach said he also has VGs on his Cessna 421C, which was featured as the September 2019 cover plane for Cessna Owner Magazine.
"They were already on my 421 when I bought it but obviously I love the reduction in Vref by 8.5 knots, as well as the reduction in stall speed and MCA," Zach said. "No reason not to have an increase in safety margin. Twin piston approach speeds are quite fast when you think about it and reducing this with VGs is a no-brainer. Another benefit is a free-weight increase of 129 pounds. On a normal trip this is our baggage — so what's not to like?"
Stephen Helms' 182, which has been wonderfully restored and was featured in the October 2019 issue of Cessna Owner Magazine, also has Micro AeroDynamics VGs. Again, for him, it's all about the stall speed.
"I am very happy with the VGs," Stephen said. "I've had them on for three seasons. They are most helpful on landings, almost like adding power steering. I have had my plane down to 29 mph before it fell off. Definitely worth the money."
Jim Curns, who flies a Piper Cherokee PA-28-180, said VGs offer much more comfortable slow-speed handling. "There's no change in top speed, but the reduction in stall was exactly as advertised," Jim said. "As a bonus, it also seems to get off the ground a bit quicker on takeoff. … They are a bit harder to clean around, but not as bad as you would think.
"Call me a fan. I would do it again without any question," Jim said. "I do frequently fly into shorter runways and it adds a nice safety margin."
Jim added that people concerned it would degrade speed and performance should note that if that were true, you wouldn't see them on so many twins and jets.
"The kit is well-supplied with the proper templates and clear directions on how to measure and place them from which points," Jim said. "There are also a few different size and shape VGs for different areas. One thing I like about the kit is they include the tail, and not just the wing. At slower speeds, it all needs to function at the same lower speed, and it seems very well-thought-out. They also include a few spares in case you ever need one, but I never have needed one because the adhesive they send is very good stuff."
Ask other pilots about VGs in your Piper. Click here.
Aviation Director Scott Sherer's experience
Piper Owner Society Aviation Director Scott Sherer had first-hand experience with before/after when he helped member Paul Novak from sister organization Piper Owner Society install and test VGs on a Piper Arrow.
Scott, who has flown many hours in Arrows without VGs, wrote about the experience in the July 2019 issue of PIPERS magazine.
"After takeoff we climbed to about 4,500 feet MSL. At cruise speed his Arrow flew beautifully. It was fast and the handling was crisp," he wrote. "Paul then took me through some slow flight maneuvers clean and dirty, power on and power off. The vortex generators took a docile airplane and made it even more so. At low speed, the airplane really didn't want to stall.
"It ran out of up-elevator in the stall and the plane just slowed down and got a bit mushy. No roll off on a wing, no rapid pitch down," Scott wrote. "And while I would never recommend doing this, it felt like you could pull the yoke all the way back, manage the sink rate with a bit of power and then do a short-field landing in about 200 feet.
"So, for about $2,400 installed on your Piper you can have a pretty-much stall-proof airplane in any configuration. How does that sound to you? It sounds great to me and I'm looking at them for my Arrow III."
So do Piper vortex generators work?
You can draw your own conclusions, and certainly you have to plan your upgrades with finances in mind. But the recommendation from Piper owners with VGs has all been positive. One member on the forum said, "(My) vortex generators make it almost impossible to stall, not to mention being a great safety feature, especially flying in the mountains."