Authors Note: It's very difficult to photograph the various stages of the headliner project. The text of this article works hard to make up for the lack of great ceiling photos and subsequently is very long. This is Part 1 of two. 
Look for Part 2 in an upcoming Piper Owner newsletter or read it now in the August 2020 issue of PIPERS.
Since my 1977 Turbo Arrow III was in really great shape when I got it, the restoration and customization projects have been relatively minor. However, as you no doubt know, simple is not the same as cheap. My own man-hours are free but man-hours from a mechanic at $100 an hour add up.
The first thing I did was to make a couple of changes to a really great panel. The previous owner removed the entire panel and vacuum system and put in one made out of carbon fiber with an Aspen EFD1000 Pro primary flight display, JP Instruments 830 engine monitor, Garmin 650 GPS, Garmin 345 transponder, L-3 standby attitude indicator, and an S-TEC 55X autopilot. Frankly,
it doesn't come much better than that. However, in my prior plane, a Seneca, I replaced my much-loved and well-used Garmin 530 with an Avidyne 540 FMS. While there's nothing wrong with the Garmin 650, I was used to a larger screen and Avidyne buttons. I also swapped out the old mechanical clock with a new, high-tech SC-5 Super Clock from Electronic Instruments. I've had these clocks in my last half-dozen planes and I love them.
Also, I removed my old whiskey compass and put in a new Precision PAI-700 Vertical Card Compass. I've had these compasses in my last half-dozen planes as well and wouldn't fly without it. So, with these minor changes I have an awesome and very modern panel.
Next on the list was a Mountain View door steward.
This is an amazing little device that opens your door and keeps it open when you unlock it. These are available for all Pipers for both the front door and baggage compartment. You can find them at Knots 2U and Aircraft Spruce.
The next project that required a whole wheelbarrow full of money was the wing walk. Under the black, non-skid surface is a two-layered structure that takes a beating over the course of 40 years. The underneath layer gets cracked and needs to be replaced. The bill to replace this was about $6,000 and a month in the shop.
Unless you're buying a fixer upper for very little money (and I like to buy planes like that), you'd better get a pre-purchase inspection! This issue was caught by JA Aero in Aurora, Illinois, just west of Chicago during the inspection 2 years ago and the prior owner picked up the tab. The value of a thorough pre-purchase inspection cannot be ignored.
My exit stair had a crack in it and if it hadn't been noticed, the stair could have broken off with someone standing on it and that could have resulted in a broken leg. A re-weld for $65 took care of that. Good catch by my mechanic!
Another item on the list was the restoration and rehanging of the door to factory specs. Thanks to $30 worth of door hinge parts from Knots 2U and a new Bob Fields inflatable door seal there are no air leaks and I saw a noise reduction of 5 db in the cockpit. I also replaced the seat rollers, bearings, and the seat adjustment spring; Knots 2U has these, too.
A few months ago, I got new side windows and windshield from LP Aero and an electronic ignition from Electroair installed. I also got a new headliner from Airtex and new window molding from Plane Plastics, which will be the focus of this article.
Headliner replacement plan
The headliner replacement project requires a plan. To start, I purchased a wool headliner from Airtex. I happen to prefer the feel of wool over vinyl and Airtex makes really great products at a very economical price. Also, after installation if there are any ripples in the wool, a little steam will get it to shrink a bit and those ripples or wrinkles go away leaving a perfect ceiling finish! My project is bigger than just replacing a headliner: I'm also going to remove all of the old fiberglass insulation from the ceiling. I'm going to inspect the entire ceiling for leaks, corrosion, working rivets, and anything needing attention while the old ceiling is out.
The headliner project is fairly complex and extremely tedious and should not be done by someone without patience. Having said that, if you follow my advice on this project you can get through it and get an A+ job your friends and spouse will admire, even if you've never done this kind of thing before. Just take your time and plan on being down for longer than you thought.
Materials 
Let's get on with creating a bill of materials. 
Headliner: Airtex has three colors in wool and one in vinyl: mica 320 (silver) wool, sandalwood 321 (beige) wool, cream 314 wool, and parchment (cream) vinyl. If you don't know what color you want, call Airtex and ask for a sample kit. It's $8 and you'll get a kit with headliner, carpet, seat, and wall panel samples. It's very cool and you'll appreciate having it. 
Window molding: Get new molding from Plane Plastics. Note: If your molding is in good condition, you need not buy new molding. You may be able to paint it or just clean it. Be aware that 40-year-old molding is very brittle and will break easily. You can replace just a single piece if need be. They have hundreds of replacement parts for any type of molding that may be needed in the cabin. Check their website for details and contact them for advice if you need it.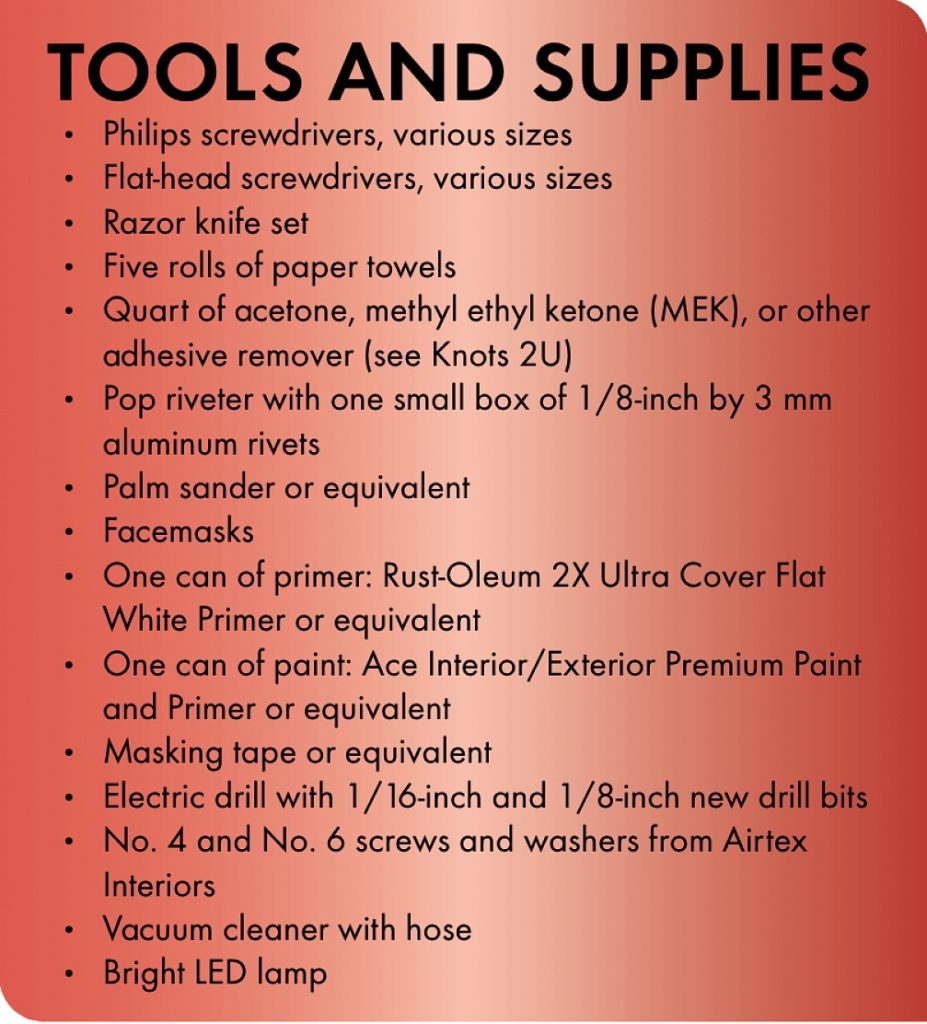 Insulation: When you remove the old fiberglass insulation, save it and inspect it to determine if any piece needs to be replaced. Airtex is a good place to look for the correct insulation for your plane. Also, and this is very important, consider putting foam soundproofing insulation on the ceiling and fiberglass insulation on top of it. The foam insulation is how I got my Seneca sound level from 80 db to 70 db (in addition to an inflatable door seal and door fitting). The insulation is inexpensive and can be cut with a razor knife. It will reduce the sound level and keep your cabin warmer in winter and cooler in the summer.
Duraseam trim cement: You'll need cement for fastening the headliner to the ceiling. Airtex sells this and you'll only need one can. 
Where to start?
If you've read my list of restoration rules, you'll know to have a table or work bench set up to keep everything that you've removed from the plane organized. And that's where we start. Make sure you take pictures of everything you disassemble in great detail. If your memory fails you later when it's time to reassemble everything, you can consult your photos. Next empty your baggage compartment and hat shelf. Remove the rear seats and everything that's tucked into pockets and on the glareshield. Everything except the front seats has to go. There will be lots of dust and old contact cement flaking all over everything. You'll need a vacuum cleaner with a hose for this project and you'll use it a couple of times each day. You'll also need some basic tools: a Philips-head and a flat-head screwdriver to start and a bright lamp so you can see while in the airplane. I picked up a new LED lamp on a small stand for $13 at a hardware store. It works great and it doesn't get hot.
With the back seats out and everything removed from the baggage area, you'll need to position yourself inside in the pretzel or lotus position — whatever works for you.
Since I'm a little older than I want to admit, I can be in this position for an hour or two, tops. You'll find what works for you.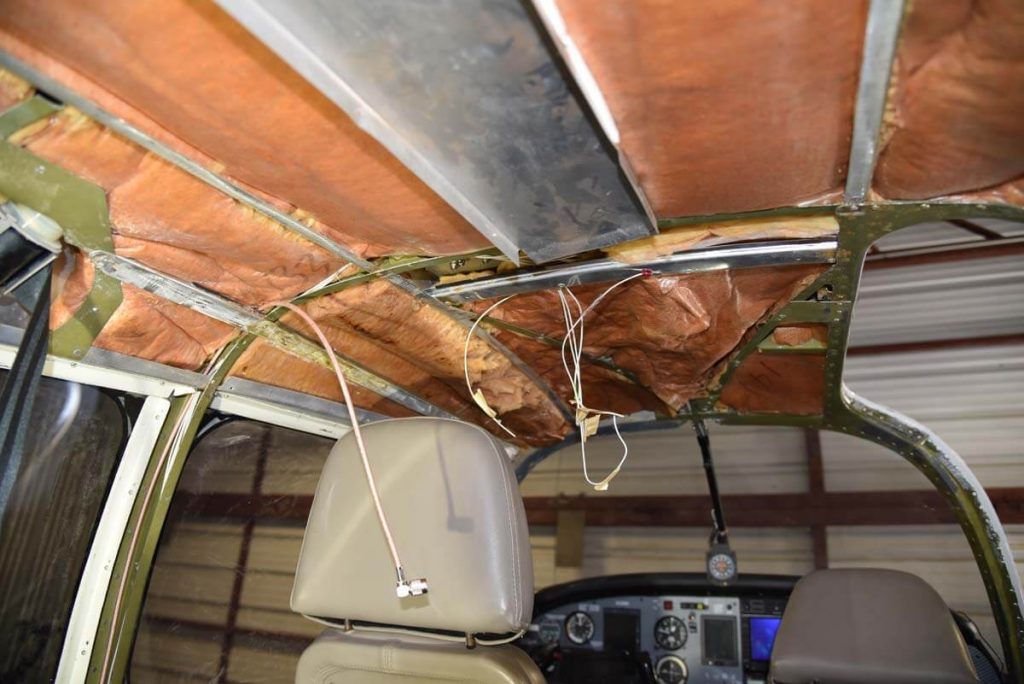 Remove the molding
Once in the cabin, with Philips screwdriver in hand, you'll need to remove all of the window molding. This isn't difficult at all and only takes a few minutes per window. You'll need to remove the screws from the top of each wall panel and pull it away from the wall. The wall panels do not have to be removed, just pulled away at the top. If you then look at where the wall panel was, you'll see that the window molding has screws to be removed. Remove them and put them in a dish or jar or something where they won't get lost. I use a magnetic dish that I got at a hardware store for a couple of bucks. The screws won't fall out of the dish if you drop it due to the magnet in the base of the dish.
Also, at the top of each window on the bottom of the molding may be a little round plastic plug. Pry that plug out with a pocketknife, screwdriver, or fingernail. Remove the screw that was under the plug. The top of the molding is pressed into a slot. With all of the screws removed you can pull the molding down and it should slide right out of the slot.
Each piece of molding covers one window and may be overlapped with the molding next to it. The molding may be locked in place until the next piece is removed. Go slow here and it will all work out. When all of the window molding is out, you'll need to remove the ceiling duct work (there might be three pieces) and the forward ceiling console.
Remove the ceiling console
Removing the ceiling console is very easy. There should be screws that come out and the console should just drop down. It will be held by five wires. Label each wire twice using masking tape or whatever works. Then cut each wire leaving the number on each end of the wire. Easy as pie! Remove the screws on the sides of the duct work and the ceiling ducts should come right off. Be careful not to break the duct work, especially the one with the air vent knob, unless it was your plan to replace it with new vent work. When the ducts are off, leave the ceiling aluminum bracket in place for now. Do not remove the duct that is in the rear bulkhead. That stays attached to the bulkhead and should be riveted in place.
Next, get a power drill with a 1/8-inch drill bit. Remember the plastic slot above each window that the molding slides into? Carefully drill out each rivet and remove that plastic slot. There's one on each side of the airplane. You will be reinstalling these later so don't break or lose them.
Remove any remaining molding or other parts on the ceiling. These may include seat belt retractor reel covers, hand straps, etc. You do not need to remove the seat belt retractor reel.
Remove the headliner
Get a small razor knife with a triangle point on it. Above each window is a metal strip that is screwed into the window frame and holds the window in place. There is no need to remove this strip. However, the old headliner will be cemented under that strip. Take your razor knife and gently cut through the headliner across the width of the window frame. Be careful not to cut or scratch the window. Pull the old headliner down and toward you. It's cemented and will gently pull away. Do this on all windows. The door brackets that hold the windlace in place need to be removed, along with the door lock cover at the top of the door frame and the door lock cover on the side of the door frame. The windlace and door bracket should come right off. You may have to unscrew it from the bottom of the door if you're going to reuse it. In my case, I just ordered new windlace from Airtex so I cut it off the bottom with my razor knife.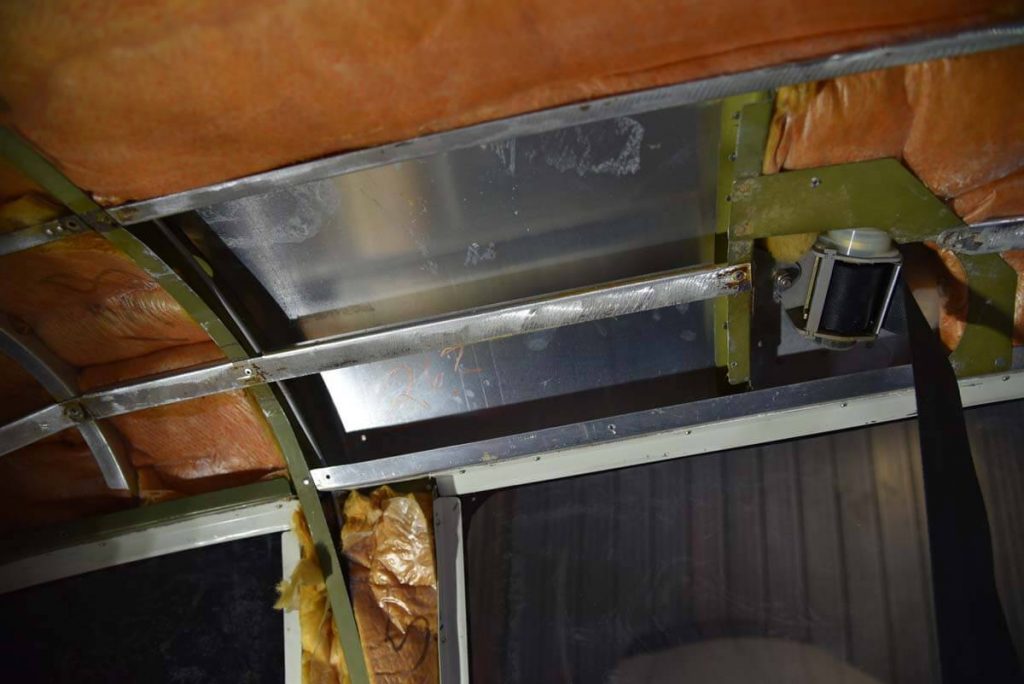 With the windlace gone, you can gently remove all of the cemented-on headliner from the airplane except the rear. The headliner will have been cemented behind the rear bulkhead and will be a real pain to work on later. Take your razor knife and cut the headliner left to right across the bulkhead. This will release the old headliner while still leaving a few inches sticking out from the bulkhead. You now need to remove the aluminum duct tray from the ceiling by removing a few screws holding it in place. The tray will come down and the entire old headliner will come down. Remove the old headliner from the plane but don't throw it out; you'll probably have to look at it for ideas when it's time to put the new headliner up. This process took about two hours to complete — it's the easy part. 
Adhesive removal
Next is probably the worst part of the project. If you didn't like what we just did, you're certainly not going to like the next part, which took about 8 hours over 4 days. The next step is removing all of the old contact cement that held up the old headliner to the ceiling. There are two situations here that need to be explained.
First, the headliner is cemented around the window frames. To be specific, the headliner is cemented to bare metal. That means that the old cement has to be removed totally. This is very tedious but not very difficult. In my case, I used a generous amount of acetone on a ball of crumpled paper towel and then I soaked down the old cement thoroughly. I would discard that ball of paper towel and then I'd take a new ball of dry paper towel and rub off the old cement. The entire inside of the plane gets covered with bits of old cement so I would vacuum it totally when I finished for the day. You can tarp the inside if you'd like.
The second situation is more complex. The old headliner is attached to the ceiling by four strips of Velcro, which is the same method by which we'll attach the new headliner. It makes for a very easy install and you'll appreciate it later. However, the old Velcro is attached to the ceiling and has to be removed. This is no more difficult than grabbing an end of the strip and pulling it off. Unfortunately, after 40 years the Velcro is very dry and brittle and when it pulls off it leaves about half of the fabric from the back of the Velcro firmly cemented to the ceiling. I tried using liberal amounts of Acetone, MEK, and Knots 2U adhesive remover to no avail. The cement and Velcro remaining just wouldn't come off. Finally, I took my palm sander to it and got most of the remaining Velcro fabric off the ceiling. Then I was able to use acetone to get the remaining cement off. The sanding fills the cabin with dust; wear a face mask when you're doing the cement removal.
You will need to remove the old fabric around the door frame and clean the cement off of that, too. The door frame will need to be redone as part of the headliner process in order for it to look good. And I would also recommend new windlace, as well, for the same reason. The rear bulkhead will need to be unscrewed and moved forward into the cabin to remove the remaining headliner and cement. We'll discuss that process in Part 2. The sun visors will need to be removed. This phase of the project took about 8 hours. 
Look for Part 2 of this article in an upcoming Piper Owner newsletter or read it now in the August 2020 issue of PIPERS.