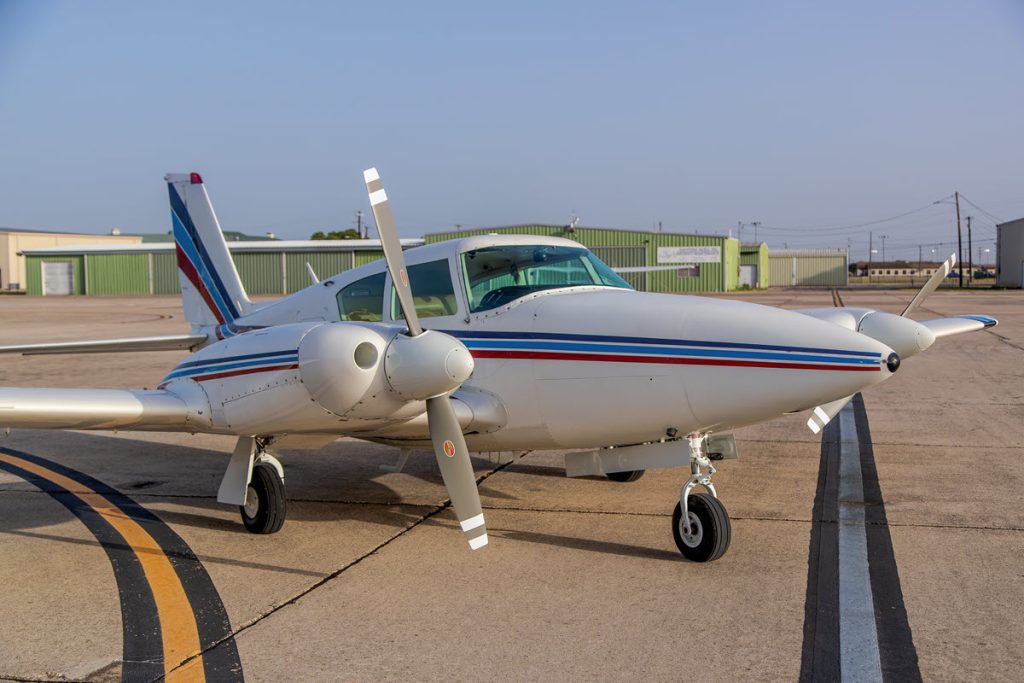 By Dan Brownell
Carter Tims, like so many pilots, grew up immersed in avia­tion, and his love of planes flowed naturally from that. "As a baby, I was around airplanes with my mother and father hosting air shows across the country," Carter said. "My father owned a restored World War II B-25 that he flew. Often in the mid­dle of airshows, I fell asleep in the front gunner turret midflight."
But also like many other pilots, Carter wasn't able to start flying as early as he would have liked. His dream was delayed for quite a few years. "I always loved airplanes. I visited the Air Force Academy during high school with ambitions to fly jets and play baseball. However, in the early 2000s, they were not allowing people who wore corrective lenses the opportunity to fly jets. That killed that dream real quick.
"Since I couldn't fly jets, I decided to play ball elsewhere and finish my education at Texas State. After school, my professional career took off, and it wasn't until my mid-30s that I had an opportunity to revisit my dreams of flying. By then I had the means and the time to commit to the skill."
Fulfilling a Dream
At this point in his life, Carter was able to partner with some friends from college to purchase a 1967 Piper Cherokee 140 so they could learn to fly. "In 2018, my father [Craig Tims], who lives in a fly-in community in Paris, Texas, with his Cessna 320 hangared in his backyard, found a cherry of a Piper Cherokee for me and my friends to train in," he said.
Carter had another college friend in Austin who was a profes­sional airline pilot with a CFI license who began training them. Over the next two years, though, several of Carter's partners lost interest and dropped out, with the remaining ones buying their equity. By July 2020, only Carter and one other partner remained. During the pandemic, Carter relished the opportu­nity to fly his own airplane out of an otherwise quiet Class C airspace. "It was a wonderful time to learn and get away from the chaos below," he said.
During Carter's training, his instructor wasn't available as much he would like. After a lot of searching, he finally found another CFI willing to teach him outside of his regular flight school schedule. He trained several times a week, and by August 2020, he was taking his check ride. "However, I always had my eyes on the next step in my flying career. I purchased this Twin Comanche in July 2020 before I had even achieved my PPL SEL.
"I was initially in the market for a single-engine platform that I could train IFR in. I found a wonderful single-engine Piper Comanche that was set up for IFR and in good condition. I did a lot of research of the Piper Comanche platform and fell in love with everything about it. However, after many hours of detailed logbook review (thank goodness for digital logbooks), I discov­ered some discrepancies with that plane that I was not comfort­able with and backed out of the deal. During the process, my father convinced me that if I was going to fly IFR for work and at night that I should really get a twin license."
The Hunt for a Twin Comanche
When the single-engine Comanche deal fell through, Carter started to look at the Twin Comanche and found the one he now owns on Trade-A-Plane. "My dad and I had a few calls with the owner over the phone and planned a trip to Kansas City in my dad's Cessna 320 to check it out. My father flew from Paris, Texas, to Austin, to pick me up and make the trip to Kansas City.
"As we were taking off from Austin-Bergstrom airport, we ex­perienced an engine-out failure. My dad, who is thankfully a very skilled and experienced multi-engine pilot, had the right engine feathered and was flying to pattern altitude by 500 feet AGL. I sat on my hands completely quiet while I watched him work, scared half to death.
"We landed safely on the same runway we took off on. We had to call a tow and shut down the only runway at Austin-Bergstrom for about an hour, but we were safe! I was a little conflicted inter­nally with if I really wanted to fly multi-engine aircraft after that. Ultimately, I got over my fears of Vmc rollover in multi-engine aircraft and decided the safety factor of two engines was worth it to me, so I continued the pursuit of this PA-30."
They couldn't make it to Kansas City that day because of the engine failure. The owner agreed to fly the aircraft down to Aus­tin after that because Carter couldn't get back to Kansas with his father for a long time. The owner's close friend flew it down through large thunderstorms across north Texas. "I watched him flying on FlightAware and was completely shocked with the types of thunderstorms this gentleman was flying through. Turned out this guy was an incredible pilot and instructor for the airliners and spent his entire life in aviation and was a PA-30 owner for close to 20 years," Carter said.
The pilot landed in Austin after a four-hour flight from Kan­sas City. "He rested in the FBO while I checked out the aircraft. Unfortunately, I had to do this by myself without my father. I did not have an A&P with me. but I liked what I saw, and I decided it would be mine."
After Carter took a short flight around the pattern and learned a few tips for flying the PA-30, he drove the pilot to the com­mercial side of the airport for the return trip to Kansas City. "I was now going to be the owner of this airplane. I did not do a pre-purchase inspection. I had faith in the gentlemen who I had been speaking to for weeks about the aircraft that he had repre­sented his airplane truthfully."
Fortunately, Carter's trust in the owner was validated, as the plane was in excellent condition. "Most everything about this air­craft had been upgraded prior to my purchase," Carter said. "The previous owner had extreme pride of ownership and put a lot of time and effort into the quality of the upgrades on this bird and the standard maintenance. I was in the market for something that was turnkey for my needs, and this machine was perfect.
"The only things I have added to this plane are Rosen visors and Micro Aero vortex generators [installed after photos in this article]. The most major structural modification since I have owned it were overhauled props at its first annual. Those were completely unexpected. They were not leaking or needing over­haul except that the nose cone was cut too close to the prop hub, which over time, as the motor sags, began to carve a groove in the hub that was deeper than allowed by Hartzell."
The Advantage of Sole Ownership
Carter decided to buy the Twin Comanche individually be­cause he didn't like his experience of co-ownership with his Cherokee. "Scheduling was never an issue with my co-owned airplane, but the costs associated with airplane ownership were," he said. "I was tired of having to ask to do things that cost money to improve the airplane and the need to convince people not as interested in the hobby to spend money on something they did not use. Additionally, I wanted to start us­ing this airplane for work, and I did not want to share time. I want to use my airplane at the drop of a hat, so I made the decision to invest individually."
Plans for Upgrades
Since the Twin was in such good shape when Carter acquired it, it didn't need a lot of improvement. "The most immediate up­grade I am looking at putting in next is a new Garmin GFC 500 autopilot," Carter said. "Eventually, I will need new engines, but hopefully that is later rather than sooner. The compressions and oil analysis are great still. The last major upgrade that I would eventually like, if I decide to keep the plane for a long time, would be a new paint job. If I paint it, I'll probably never sell it."
An Owner's Thoughts on the Twin Comanche
Carter is very pleased with the Twin Comanche. "It's a won­derful platform for many missions. It is a great multi-engine trainer, incredible cross-country bird with long legs that is very fuel efficient with respectable speed. The engines have a good reputation for reliability, and the airframe is sturdy."
He rejects the common misconceptions about twins. "Many people are hesitant to own or fly light twin airplanes because they consider them dangerous, expensive, and unable to fly with one engine. That is absolutely not true about this airplane. I have always found it a safe aircraft. The statistics of fatalities in this airplane show that they are far more related to user error than to airframe or engines. The Twin Comanche will absolutely fly on one engine, and it flies very well at that, even in 100-plus degree heat in Texas. The aerodynamics of this airplane are great and provide for a very stable flying experience. And it's very eco­nomical to own."
Carter offers some practical advice about the plane. "Any­one considering this type of airplane should plan on having it serviced from an experienced Comanche maintenance facility. Tim Talley and his team from Clifton Aero in Clifton, Texas, are 'best of breed' when it comes to Comanche maintenance. It is easy to fly with confidence with them supporting these older airframes. I highly recommend them.
"Also, you have to know that you are buying a vintage aircraft, and, like any classic sports car, they need a bit more TLC than late-model airframes. However, in the end, the 'cool-factor' on any ramp is real!
Carter points out that finding the right instructor is key, too. "In addition to having a great Comanche mechanic, it is very im­portant to have an experienced CFI coaching you how to fly these airplanes. Chris Mauser, previously out of Austin, Texas, and now with ForeFlight, was invaluable in my progression as a pilot who really helped me learn how to fly this airplane and approach flying like the professional pilots do."
As for flight characteristics of the plane, Carter offers several thoughts. "Unfortunately, I haven't had enough flights (just one) to provide a lot of insight on the addition of VGs, but I did notice a lot more control at slow speeds on final, and they definitely increased climb performance on takeoff. I think I'll be very happy with that upgrade over time.
"As with any multi-engine airplane, airspeed is king in critical phases of flight, and that is absolutely the case with this airplane. During takeoff, it wants to jump off the runway before Vmc, so a common tactic is to lift off the runway and stay in ground effect until you reach Vmc and then climb out. This is what I do and, out of all of the techniques discussed out there, I like this one the most.
"With its laminar wing, the Comanche is fast, so if you do not plan well ahead of your destination, you will be much faster than you want to be entering the traffic pattern."
Advanced Training
Carter has been ambitious about getting further training. "I immediately started my multi-engine license training as soon as I finished my PPL," he said. At that time, though, I had zero retract­able or complex training, so not only did I have to learn how to fly those types of airplanes, but I had to learn how to fly a multi-engine at the same time. This was a lot at first, but I loved it.
"I fortunately found a wonderful multi-engine instructor who could dedicate consistent time with me every Monday and Fri­day afternoon. I eventually earned my MEL rating by the end of December 2020. I have started IFR training via Sporty's online course, but my original MEL trainer who I was looking forward to working with on my IFR rating moved away. I am now in the process of searching for a new CFI to help me earn my IFR rat­ing in Austin, Texas.
"Unfortunately, because I do not have my IFR rating yet, it makes it difficult to use for work, which is what I had originally purchased it for. Right now, it is a personal weekend warrior that I use for fun and to entertain friends and family. My goal is to use this for work so I can be home as much as possible with my growing family," he said.
An Attitude of Gratitude
Carter deeply appreciates all the help he received getting to where he is now, including his dad Craig, mom Konnie Han­sen, and wife Jessica. "Every one of my family and friends have been amazingly supportive. My wife Jessica has been so incredibly tolerant of the many hours of training it took me to get my PPL and then dive straight into multi-engine training with this Comanche. She knew this was a lifelong dream of mine.
"In addition, my parents are both very supportive. My mother was a beacon of encouragement during tough times along the years navigating new jobs, maintenance issues, COVID-19, and more that all threatened to derail my prog­ress. My father, a highly experienced pilot himself, provided invaluable insight along the way in my flying journey. We spoke for hours about training techniques, maintenance is­sues, safety, and how to be a professional pilot. He is the per­son who originally found the Cherokee 140 I learned in. He helped me find and decide on this Twin Comanche. I could not have accomplished this dream of mine, at this point in my life, without all their support."
Carter would like to pay that forward when he achieves his IFR rating. "Eventually, if needed, I would like to start using it for volunteer work and emergency situations around Texas and the Gulf Coast," he said.
Select a photo to open a pop-up slide show