By Dan Brownell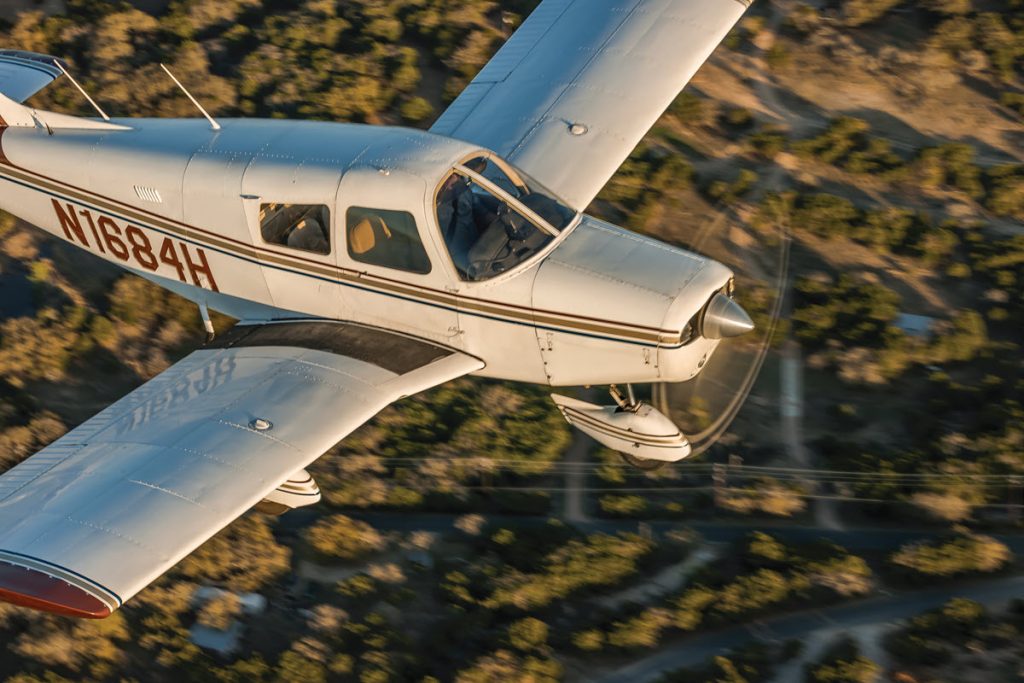 A Reliable, Easy-to-Fly, Recreational Favorite
Lance Clinton has been flying on and off for more than three decades. He didn't inherit the flying bug from his family, but rather from an experience he had as a teen that lit his fire. "I remember I was in middle school in North Caro­lina, and I took an aptitude test that tells you what your career should be," he said. "It said I should be an air traffic controller; I had no interest in that, but part of that program was we got a free airplane ride. So the people who were air traffic controllers and pilots who were in this program got us our first airplane ride." That was a life-changing event for him.
Lance is an IBM software engineer, and like many pilots, job and family responsibilities — and the ever-increasing cost of aviation — have kept him on the ground more than he would like. "I got licensed when I was 19 years old, and I just turned 50," he said. "So it's a little over 30 years that I've been flying." But those years included long stretches in which he was flying little to none. "I wouldn't fly for three or four years, and some years I'd be lucky enough to get 10 hours in a year. But now I'm over 900 hours over 30 years. Not a ton of hours, but in this aircraft, since I bought it about four years ago, I've been putting on aver­age about 150 to 160 hours a year on it.
"My original goal when I got my license 30 years ago was to be a commercial pilot, but life happens, and you have kids and things don't go exactly the way you wanted, but it's been a great hobby over the years for me and I use it to decompress. You go up high and all you see is clouds all around. It's pretty therapeutic for me."
Great for Recreation
Lance flies purely for pleasure, and the plane he owns, a 1977 Piper Cherokee, fits his mission well. "This is the second airplane I've owned. Both of them happen to be Piper Cherokee 140s. I'm a really big fan of the PA-28.
"My first airplane was a 1969 Cherokee 140 that I purchased in the 2003-ish time frame, so it was quite a while ago. I really enjoyed the plane, but it gets ex­pensive when you have young kids like I did at the time. I only kept it for about three years, then I sold it. And then I bought this one about four years ago. I'm still a big fan of the Cherokee. I love them to death."
At more than four decades old, his 140 is definitely a legacy Piper, but as Lance pointed out, "It's the newest Cherokee 140 you could get back in '77, the last year they actually made that particular model before they went up to the Warriors."
| | |
| --- | --- |
| Production Run | 291 |
| Engine | Lycoming O-320-E3D |
| Horsepower | 150 |
| Top Speed | 143 mph (124 kts) |
| Cruise Speed | 136 mph (118 kts) |
| Economy Speed | 123 mph (107 kts) |
| Fuel Capacity | 50 gal (80-87 oct) |
| Range | 610 nm (@ cruise) |
| | 679 nm (@ economy) |
| Gross Weight | 2,150 lbs |
| Empty Weight | 1,290 lbs |
| Ave. Useful Load | 860 lbs |
| Takeoff Ground Roll | 800 ft |
| Takeoff Over 50 ft Obstacle | 1,700 ft |
| Landing Ground Roll | 535 feet |
| Landing Over 50 ft Obstacle | 1,080 ft |
| Rate of Climb | 631 fpm |
| Ceiling | 10,950 feet |
| Doors | 1 passenger, 1 cargo |
| Seats | 2 standard, 4 total (optional) |
| Dimensions (all approx.) | |
| Fuselage Length | 23 ft, 5 in |
| Fuselage Height | 7 ft, 4 in |
| Total Wingspan | 30 ft |
Specifications & Performance
1977 PA-28-140 Cherokee Cruiser All vintage planes are different. Do not use these to plan a flight. Source: Standard Catalog of Piper
Single Engine Aircraft (Piper Owner Society).
An Excellent Buy
Lance considers himself fortunate to have found his current plane locally and in such good condition. "It was purchased from my home airport," he said. "I was a member of the local flying club at the Rusty Allen Airport outside of Austin, Texas. And this one gentleman who was elderly, lost his medical and was looking to sell it. He didn't really want to because you know he loved his airplane, but he didn't really fly it for like a year. So I was able to pick it up from him.
"I had some mechanic friends take a look at it. I think I had to replace a cylinder because it sat for a year. But other than that, the plane has been just beautiful to fly. And no real mechanical problems, just normal maintenance."
A Fuel-Efficient Machine
Lance gets excellent fuel burn with his Cherokee. "When I'm in cruise, it's probably 8 to 8-½ gallons an hour. I usually plan for 9 gallons and I'm way under so, it's usually pretty good for that." The plane isn't very fast, though, which is what you would expect from a machine that just sips gas. But since he's just flying for fun and not in a hurry, it doesn't matter. "I usually cruise about 105 knots. Not crazy fast, but it gets me where I want to go. I would love to upgrade to an Archer or even an Arrow in the future. It's kind of my goal."
But for now, since he loves his 140 so much, he's content with what he has because it makes flying simple. "One of my favorite trips is to fly down to the Texas coast, the Gulf Coast, and the little Barrier Islands and head off to Galveston or South Padre Island, things like that. Nice flight. Easy flight."
Lance likes the predictability of the Cherokee. "I could say it's a boring airplane. There are no surprises, but that's kind of the point for me. I mean, I do this for fun. I don't want anything to surprise me. I try to make this as safe as possible. What I want it to do, it does it."
Only Modest Upgrades — So Far
"I have a lot I want to do with my plane; I just haven't got around to it yet," Lance said. But for now, he's had at least one major upgrade done. "I did add ADS-B, which is a requirement, and I love it. And I added a new ADS-B In antenna, which I was able to hook up to the Garmin 696 that was already in the plane. I was able to upgrade the operating system on the Garmin to accept ADS-B input. ADS-B is a game changer when it comes to flying. When I learned 30 years ago there was no such thing as GPS. Having the ability to see other airplanes around you while you go flying is just outstanding from a safety aspect."
Lance had to replace one of his Narco units because the digi­tal readout on it was going bad, and he added a digital USB charging port, which he finds handy. But that's about it. "The plane hasn't been changed much since I purchased it," he said. "It was like that when I bought it. I think the paint scheme is original. I couldn't find anything in the logbooks that talked about it being painted."
One downside to Lance's plane — considering that he lives in Texas — is that it doesn't have air conditioning, although it used to. "The air conditioner has actually been removed from the air­plane," he said. "I wish it did work. It's hot down here."
Lance's Pre-Buy Advice
Lance doesn't have a lot of warnings or advice to offer about a 140 pre-buy inspection, but he did point out one thing to keep in mind. "I think the one biggest problem, at least what I've noticed, has been the struts. Make sure that the main landing gear struts have been serviced recently. They wear through the seals quite a lot. The reason I'm saying that is that I'm actually having to re­build my strut right now. It started to leak on me, and it leans to the left, and I think that's a normal Piper issue, but if you can get one with a strut recently overhauled, that would be a good idea.
The Pilot and A&P – A Relationship Rooted in Trust
Lance isn't a DIY mechanic. He wants to leave maintenance to the experts. "I'd rather have someone who knows exactly what they're doing work on my plane," he said. He is grateful for the work that his A&P, Mike LaPlant, does for him. "As a pilot, one thing that's important is trust. You're trusting your life to your mechanic, so if you don't trust them, that's not good. But I trust this guy with my life. He does a hell of a job for me, and I appre­ciate everything he's done making sure my plane is up to snuff."
A Tip from Lance's A&P
The way you operate your plane can have a big impact on performance, wear and tear, and maintenance. That's why Mike LaPlant, Lance's A&P, harps on him about watching his mixture. Mike often reminds Lance to "lean, lean, lean the airplane." It just doesn't come naturally for him. "I'm never really good at leaning," Lance said. "I do it after you pound me in the head over the years. You know, in Texas, it's very hot here. You want to make sure you have the best performance for the airplane at all times, and leaning has a lot to do with that."
Select a photo to open a pop-up slideshow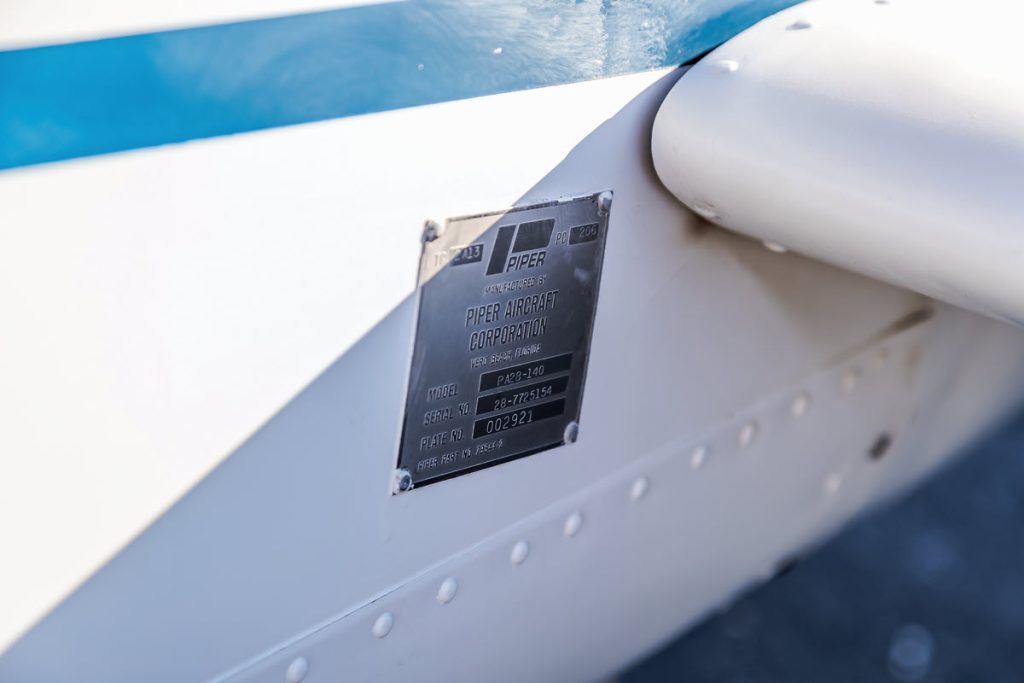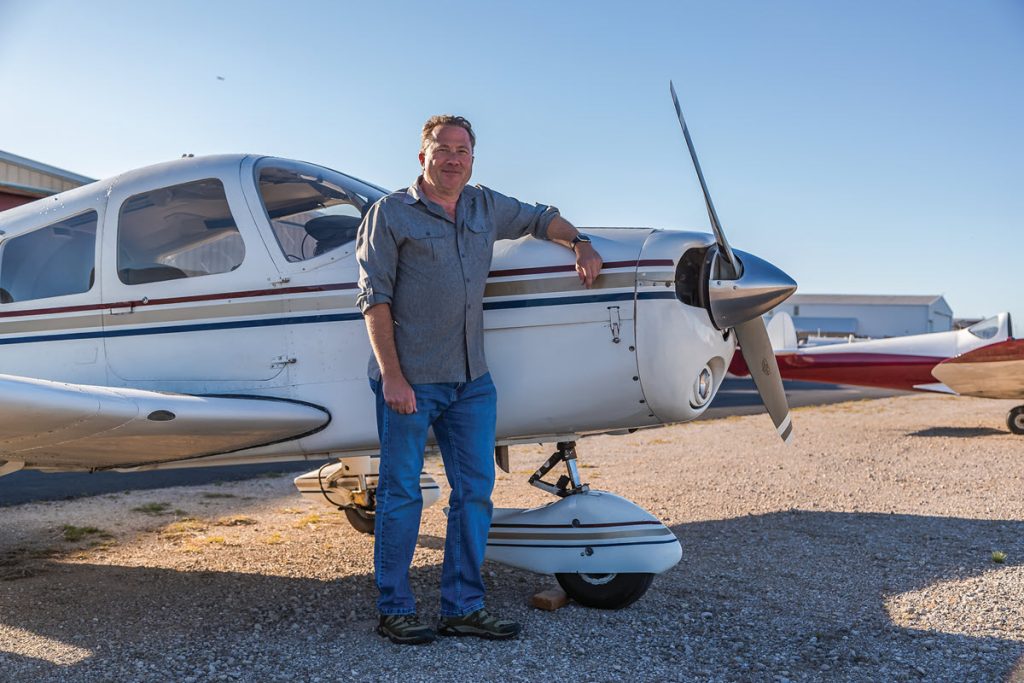 Owners' Top Tips
We asked our Cherokee 140 owners for tips about their planes last year, resulting in the extensive 140 Market Report in the Oc­tober 2021 issue. Here are some of those tips. Quotes here are not meant to indicate the person still owns their 140. Read more at piperowner.org/oct21.
We start with a list of things that you should typically upgrade or avoid from A&P/IA John Schreiber.
Plan to upgrade upon purchase: Copper battery cables, AGM battery, lightweight starter.
Things to avoid: E-Drive, NL model starter.
Other notes from Schreiber:
The Original Chrysler alternator is top quality, and more reliable than the late, new units.
Have at lest one of your magnetos serviced every 500 hours and do the other on next year.
The Challenger air filter is of good value, in my opinion
140 Owner Tips
Replace the hoses. Several members said this, including Bill Wenner, owner of a 1973 140. "The O-320 is a great engine, but usually mags need to be replaced, as well as hoses." Added Doug Bowen, owner of a 1972 140D, "Make sure all soft hoses have been replaced and the fuel quantity transmitters are overhauled."
Appreciate the speed (or lack thereof). If you want a fast plane, you're not looking in the right place. But Chris Chicoine, owner of a 1969 140, and others said that can be a benefit. "The speed of a 140 can work to your advantage," he said. "It gives you time to react and correct. If you're a great 140 pilot and always grease your land­ings and IFR approaches, you'll be less overwhelmed when flying a faster plane."
Parts availability makes it a great starter plane. In large part because parts are plentiful, this is a great starter plane in that it typi­cally won't often surprise with expensive fixes. "Parts are plentiful," Chicoine said. "One of the best reasons to buy this plane is the ease of finding parts. Everyone wants the Ferrari until they get the bill to repair it or maintain it, then they reconsider the Honda Civic."
It drops like a rock. With the Hershey bar wings and other fac­tors, several owners said "be prepared to drop like a rock." The 140 does not coast. "It falls out of the sky," said one owner. Said another, "It glides like a rock. You need to learn to drive it on the runway."
Favorite member upgrades: PowerFlow exhaust, battery com­partment with Bogert kit, four-point seat belts, propeller. Sch­reiber: "If your 140 still has a 60-inch pitch prop, the 160-hp STC increases horsepower by 20. You will be amazed at the performance increase."
Not for you … if you live in the mountains. Several owners said this plane does not climb well at altitude.
Pre-Buy Tips
Check the landing gear. "Make sure there are no bends of the main landing gear or struts," said Dennis Bentley, owner of a 1967 140.
Current value vs. Cessna 172. The secondary market is off the charts for most planes, especially those that are light on fuel. But that is especially true for the 172. "In my opinion the Cherokee 140 can provide the best bang for the buck," said John Schreiber, owner of a 1966 140. "The Cessna 172 is a nice entry-level airplane that has gotten very expensive."
Pre-Buy Checklist (again from Schreiber): "Check static rpm, as it effects maximum gross weight, per the TCDS. If rpm is low, a non-sealing carb heat valve, late ignition timing, or re­stricted muffler could be the cause. A smooth idle at 500-600 rpm within 30 seconds of starting cold indicates a high prob­ability of good valve health. Bring the rpm back up to above 1,000 after checking, until the oil temp gauge starts to move, for improved cam lubrication."